We're not the only ones who have spotted the Next Wave of the Mortgage Meltdown, coming soon to a neighborhood near you. It seems that our very own Treasury Department is concerned about it as well:
Treasury officials today said they are still concerned about a coming wave of foreclosures, many from pay option ARMs and many from the prime jumbo basket, particularly hard hit by unemployment. Only 2/3 of borrowers in the HAMP program are current on their payments. That's why officials now say they are looking at unemployment options and more incentives to borrowers to keep paying on trial modifications and on loans that are significantly "underwater" with respect to the property value.

Treasury will release its HAMP numbers tomorrow, listing each bank's progress and ranking them in a list of peers.  But at the end of this week we will get another new delinquency report, a big one, and when we start crunching numbers, I doubt they're going to add up to significant success in housing's recovery.
This web site and many others have been talking about the second wave for some time – it's good to see that Treasury is finally on board. But, if there is a second wave coming, then how could we say we're out of recession? The next wave is likely to slam us right back into another significant drop in economic growth.
For those who haven't seen it, this is what we're talking about: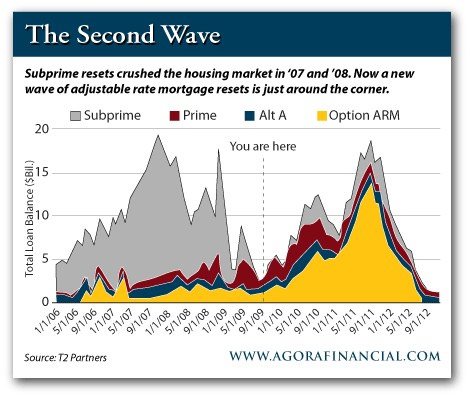 The delinquency numbers discussed above were released on Friday, and according to some, it's a sign of recovery:
America's foreclosure wave showed signs of easing Friday, but the problem is still a long way from over.


The share of mortgage loans in the initial stage of delinquency fell in the fourth quarter of last year, according to numbers released by the Mortgage Bankers Association. The decline in loans one-month past due is a promising sign, because the fewer loans become delinquent, the fewer will end up in foreclosure.

Still, the group said the percentage of loans in foreclosure rose, and the share of loans near foreclosure (90-days past due) remains at record highs.

Essentially, these numbers suggest that the mortgage-default problem may be peaking, but that a long slog remains before the housing market is back to normal.
Take a quick look at that graph of the Second Wave from Agora Financial above. This particular positive news in delinquency rates falls almost right in line with the dip reflected around the fourth quarter 2009 area. (note that the Agora Financial graphic is from September 2009)
Look what is forecast to happen after that dip.
It's about to make a heck of a climb, and by the end of this year, if Agora Financial is correct, the second wave of the mortgage meltdown will really be cranking – and it will peak some time in 2011 – not in the fourth quarter of 2009 as many analysts have suggested.
If you add continued deterioration in the job market to the mix, you can see that the worst of this crisis is ahead of us, not behind us.
The Treasury department is concerned and rightfully so.
Read More: Visualize Wave Two of the Morgage Meltdown from the Homeowner's Perspective