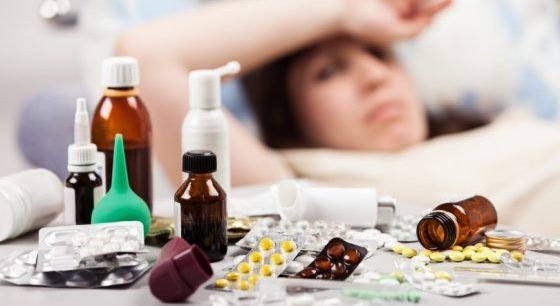 Oregon is one of 36 states nationwide reporting high levels of a flu outbreak, according to the U.S. Center for Disease Control. More than 120 Oregonians have been hospitalized for the flu in the week leading up to Christmas.
"It's just one of those years where the CDC is seeing that this strain of flu is only somewhat covered by the vaccine," Jennifer Radtke, manager for infection prevention at the University of Tennessee Medical Center in Knoxville, told USA Today. Although "somewhat covered" is a bit of a stretch considering the vaccine is only about 10% effective this year. "They're seeing that it's anywhere from 10 to 33 percent effective, so anytime there's a mismatch between the vaccine and the circulating strain of the flu, you're going to see more cases."
Ann Thomas, a public health physician for the Oregon Health Authority, said the flu virus mutates so quickly, it's a "roll of the dice each year." Some mutations or subtypes, such as H3N2, are more dangerous, especially for people over the age of 65. And even though the vaccine is ineffective, government agents and health officials recommend getting the flu shot.
Last year was Oregon's worst year on record for the number of hospitalizations, she said. This year appears to be on the same track. As of December 29, 335 cases of influenza-related hospitalizations in the Portland tri-county area alone were reported by the state for the 2017-18 season, Thomas said.
Salem Health's Infection Prevention Manager Julie Koch said about 25 percent of patients in the region tested for flu showed positive. Koch said they are seeing both of flu types A and B this year. Both are "protected" against in this year's shot, as well as flu A(H3), which seems to be predominant at this time.
But there is evidence to suggest that the flu shot actually increases the chance of getting sick.
So should you get the shot?  Doctors and the government will tell you that you still need to be vaccinated against the flu every year. But Mike Adams, the Health Ranger, says that getting an annual flu shot is "all a big lie from the vaccine industry."
Washington state has reported 20 lab-confirmed influenza-related deaths for the 2017-2018 season, as of December 23, and Idaho has seen more flu-related deaths at this point in the season than at the same time in the previous seven seasons. Every year, influenza contributes to an estimated 36,000 deaths in the United States, along with more than 200,000 hospitalizations.