The US real estate market all but fell off a cliff two years ago. Though there has been a very minor recovery, or rather, stabilization, in home prices, we recently pointed out that it makes sense to be gloomy.
For those living anywhere near the gulf coast there has been no recovery, or really, any stabilization, as depicted by the follow chart from city-data.com: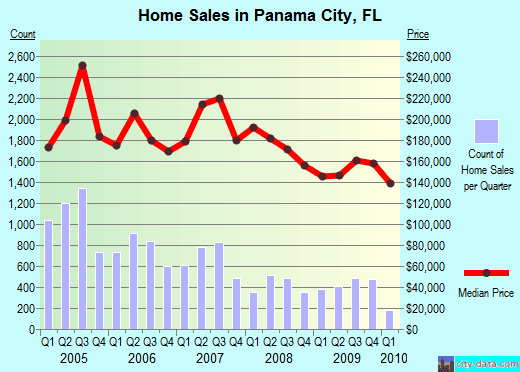 In addition to the pre-oil leak trend of job losses, wage decreases and mortgage rate resets, we now have a natural man-made catastrophe on our hands.
With a complete loss in the Gulf coast tourism industry we can reasonably expect rental properties to get absolutely hammered. And, if the oil leak is as bad as we hope it's not then we may very well have hundreds, if not thousands, of miles of destroyed beach front and surrounding properties. The environmental ramifications in terms of dangerous gases and oil covered  beaches will lead to even higher delinquency and default rates across the southern United States.
In the event of mass, longer-term evacuations, we could potentially be looking at real estate prices going to Detroit price levels in some areas, which have literally reached $1 on some homes.
For those who think that a real estate collapse on the coast resulting from evacuations and general migration will lead to price increases elsewhere in the country, consider that many of those who will be leaving the coast will be leaving with essentially nothing – no money, no job, no assets. The likely outcome will not be increased purchases of real estate in other parts of the country. Many of those who will eventually leave the coast may have to turn to the government for help with housing, or they will likely end up living with friends or family.
There are millions of people near the Gulf coast right now that stand to lose everything as a result of the negligence of BP and the US government regulatory agencies.