This article was originally published by Matt Agorist at The Free Thought Project.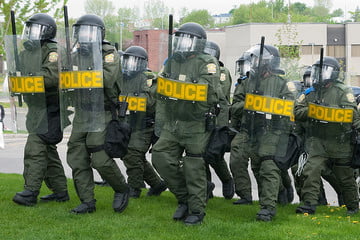 Since the George Floyd protests began last week, they have since morphed into a much broader movement which is now exposing a problem this country has suffered from for a long time. The system of law enforcement in this country has morphed into a militarized standing army, preying on the poor, and rife with corruption. Naturally, people are pissed.
As we have stated from the beginning of the riots, this reaction was inevitable. Minorities and the poor have been pushed into a corner and ignored as the state preyed on them through a system of extortion and violence. One can only be ignored for so long before they eventually lash out.
Remember when football players were peacefully protesting by taking a knee, and the country — including the Commander in Chief — collectively lost their minds telling them to shut up and sit down? Trump even called for them to be fired for this. Now, because these folks were ignored and told to shut up during their peaceful protests, the inevitable non-peaceful protests have begun.
For decades there has been a perfect storm brewing in this country as minorities and poor people have their doors kicked in and are terrorized by cops during botched raids for substances deemed illegal by the state and watch helplessly as their family members die in video after video at the hands of cops. Now, we have record unemployment, lockdowns, cops murdering people on video and facing no immediate charges, and those in charge sit at the top and point fingers.
Because the system will always refuse to accept responsibility for the situation it has forced onto the people, the blame game always comes next. Instead of realizing the error of their ways, government is now blaming the riots on Antifa, White Nationalists, the Alt right, "thugs," and any other scapegoat they can find to blame besides taking responsibility. They are even blaming Russia now. You cannot make this up.
Naturally, this will never lead to any positive change. It will only prolong suffering, create more divide, and perpetuate a system of injustice for decades to come. Those who want to incite peaceful change, however, have been pushing these ideas out for a long time. Now, people may finally listen.
To lower the likelihood of future chaos, America's system of law enforcement needs radical change. Instead of threatening to execute suspected looters with no due process — the discussion we should be having right now is how to fix this broken system. It is not difficult, it is based in logic and reason, and its effects would be significantly felt almost overnight.
Over the years, TFTP has been proposing these solutions, and below we have compiled a list of five main actions that could affect this much-needed change, right now.
The first and most significant solution to this pain and suffering would be to end the war on drugs — today. Legalize every substance out there. 
Richard Nixon, in his effort to silence black people and antiwar activists, brought the War on Drugs into full force in 1973. He then signed Reorganization Plan No. 2, which established the Drug Enforcement Administration (DEA). Over the course of five decades, this senseless war has waged on. At a cost of over $1 trillion — ruining and ending countless lives in the process — America's drug war failed, miserably, and has created a drug problem that is worse now than ever before.
This is no coincidence.
For years, those of us who've been paying attention have seen who profits from this inhumane war — the police state and cartels.
The reason why the drug war actually creates a drug and violence problem is simple. And those who profit most from the drug war — drug war enforcers and cartels — all know it. When the government makes certain substances illegal, it does not remove the demand. Instead, the state creates crime by pushing the sale and control of these substances into the illegal black markets. All the while, demand remains constant.
We can look at the prohibition of alcohol and the subsequent mafia crime wave that ensued as a result as an example. The year 1930, at the peak of prohibition, happened to be the deadliest year for police in American history. 300 police officers were killed, and innumerable poor people slaughtered as the state cracked down on drinkers.
Outlawing substances does not work.
Criminal gangs form to protect sales territory and supply lines. They then monopolize the control of the constant demand. Their entire operation is dependent upon police arresting people for drugs because this grants them a monopoly on their sale.
It is incredibly racist too. The illegality of drug possession and use is what keeps the low-level users and dealers in and out of the court systems, and most of these people are poor black men. As Dr. Ron Paul has pointed out, black people are more likely to receive a harsher punishment for the same drug crime as a white person.
This revolving door of creating and processing criminals fosters the phenomenon known as Recidivism. Recidivism is a fundamental concept of criminal justice that shows the tendency of those who are processed into the system and the likelihood of future criminal behavior.
The War on Drugs takes good people and turns them into criminals every single minute of every single day. The system is set up in such a way that it fans the flames of violent crime by essentially building a factory that turns out violent criminals.
It also creates unnecessary police interactions — disproportionately carried out on black people — which leads to resentment, harassment, civil rights violations, and even death. When drugs are legal, there are far fewer doors to kick in, fines to collect, profit prisons to fill, and money to steal.
Secondly, we need to end qualified immunity for police. 
When it comes to police accountability, one overarching question remains. 'Do we want to live in a society whereby law enforcement officials can completely violate a person's constitutional rights and get away with it?' For our society to be free, the answer to that question must be a resounding, powerful, unwavering, 'Hell No!'
Unfortunately, however, this is the case most of the time thanks to law enforcement personnel's use and abuse of Qualified Immunity.
For those who may be unaware, qualified immunity is a legal doctrine in United States federal law that shields government officials from being sued for discretionary actions performed within their official capacity, unless their actions violated "clearly established" federal law or constitutional rights.
The Supreme Court created qualified immunity in 1982. With that novel invention, the court granted all government officials immunity for violating constitutional and civil rights unless the victims of those violations can show that the rights were "clearly established."
As Anya Bidwell points out, although innocuous sounding, the clearly established test is a legal obstacle nearly impossible to overcome. It requires a victim to identify an earlier decision by the Supreme Court, or a federal appeals court in the same jurisdiction holding that precisely the same conduct under the same circumstances is illegal or unconstitutional. If none exists, the official is immune. Whether the official's actions are unconstitutional, intentional or malicious is irrelevant to the test.
An example of this would be the family of George Floyd attempting to seek compensation for his death. Because there has never been a "clearly established" case of a cop kneeling on a man's neck until he dies being declared unconstitutional, a judge in Minnesota could easily dismiss their case.
It is essentially a get out of jail free card for cops and it perpetuates the problem of police violence by giving bad cops a free pass.
After removing a cop's ability to trample rights without consequence, it is time to hold them liable. That's where personal liability insurance comes in.
As the Free Thought Project has reported extensively, police officers, even when found at fault for their abusive actions, are almost never held personally liable. It is the taxpayers who foot the bill. However, all that can change overnight by requiring cops to carry personal liability insurance.
Imagine, for a moment, the result of all police officers being held personally liable for their actions and forced to pay their victims. In nearly every other profession on the planet, if someone hurts someone else while on the job, they are held liable — personally. Why can't cops carry personal liability insurance just like doctors?
As instances of police brutality and police killings continue to be exposed, there is no doubt that the US is in dire need of reform. The simple requirement for police to be insured for personal liability is an easy fix — especially to remove repeat offenders from the force.
All too often, when a tragic death such as George Floyd occurs, later — as was the case with Derek Chauvin — we find out that the officer should have never been given a badge and a gun in the first place because of their past. However, insurance companies, who can't fleece the taxpayers to pay for problem cops, would have to come out of pocket to pay for them and would make sure that these officers are uninsurable.
If the officer becomes uninsurable, the officer becomes unhirable — simple as that.
There are likely many cops out there right now who would be denied insurance coverage by any company, due to their track records. A requirement for personal liability insurance would, quite literally, weed out problem officers — almost overnight.
The fourth solution to preventing police brutality and violence would be to bring predatory policing to a halt. 
All too often we hear the ridiculous statement from the police apologist crowd saying, "If you don't break the law, you have nothing to worry about."
However, that statement couldn't be further from the truth.
Former NSA official William Binney sums this myth up quite accurately, "The problem is, if they think they're not doing anything that's wrong, they don't get to define that. The central government does."
Attorney Harvey Silverglate argues that the average American commits three felonies a day without even knowing it. Most of these crimes have no victim either — like possessing marijuana, driving a car with dark windows, or a burned-out license plate light.
While most everyone in America commits these same infractions designed for revenue collection instead of safety, most of the people targeted by police for these crimes are the poor, minorities, and the mentally ill.
As the 2014 death of Mike Brown in Ferguson exposed, in 2013, African-Americans accounted for 86 percent of traffic stops while making up only 63 percent of Ferguson's population.
For those too poor to pay their tickets, routine traffic stops in Ferguson ended up in repeated imprisonment due to mounting fines. Ferguson was running a de facto debtors' prison.
Revenue collection, persecution of the poor, and debtor's prisons take place in every county, in every city, across every state. This institutionalized cruelty is little more than a day's work for the millions of bureaucrats involved in the racket.
Sadly, until this system of wealth extraction is defunded or brought to a halt through radical policy changes, cases of cops preying on the poor will continue at an ever-increasing rate until the whole country is one big prison — or, burned to the ground.
Lastly, we should end the monopoly that American police have on law enforcement. 
Simply put, police officers can be corrupt, kill with impunity, and are rarely held accountable because Americans have no other choice. We are stuck with them. In any other job market on the planet, if they had a death toll of 1,000 Americans a year, they would be out of business overnight. However, because cops have a monopoly on law enforcement in America, the death toll keeps rising.
By allowing competition in law enforcement, the incentives for policing would drastically shift. Violent police departments would be fired and replaced with less violent ones. Cops would have an incentive to serve their communities by solving real crimes like rape and murder instead of kidnapping and caging people for victimless crimes.
If this sounds like a pipe dream to you, then you've probably never heard of Dale Brown.
Dale Brown of Detroit's "threat management center" has shown that crime can be stopped and lives can be saved by independent people using nonlethal tactics.
In areas of Detroit where police don't answer 911 calls, Dale Brown took matters into his own hands and started taking those calls himself, and because Dale was not "above the law" as police officers claim to be, he had to solve these crimes without hurting people, because he would actually be held accountable for his actions.
Yes, businesses pay for these services. However, as a side effect of providing businesses with security, Dale has also been able to provide service in poor neighborhoods for free, by financing his business through providing security for high-income areas.
Instead of policing from a place of fear, self-preservation, and extortion, Brown polices through love. He offers of some timeless advice that we could all use right now. "The cornerstone for protection is love, not violence, not guns, not laws, you cannot truly protect anything that you do not love."