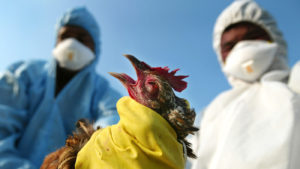 China has announced the first human case of an H3N8 bird flu infection in a statement but said the risk of it spreading among people was low. It is known to infect horses, dogs, and seals, but has not previously been detected in humans.
China has already reported that the H5N6 bird flu has jumped to humans:
It Starts: China Reported 19 Human Cases Of H5N6 Bird Flu
Keep in mind, that the rulers have previously told us that they already know about the "next pandemic". It has been announced by CDC director, Robert Redfield:
If the Centers for Disease Control and Prevention director is correct, the mortality rate will be 10-50% once they splice the Spanish influenza virus of 100 years ago with seasonal influenza now, they can get a "mutant hybrid" virus that is highly infectious and could cull up to half of the world's population.
As Christian of Ice Age Farmer says in another video: "There is an untold story involving Bird Flu, gain of function research, the Gates Foundation, and Ukrainian Biolabs — and it is time to tell it. As hundreds of millions of birds are killed due to Bird Flu "PCR outbreaks," Europe is warning of chicken and egg shortages, and many states have now outright banned the sale of chicks to the public. The largest egg producer in the US has culled birds and fired its workers. In this Ice Age Farmer exclusive, Christian breaks down the sordid story of this virus, and asks: will weaponized H5N1 be the next human pandemic?"
With immune systems destroyed by the COVID-19 vaccines, a weaponized flu virus could cause real damage and death if they attempt to pull this off. Plan for the worst, hope for the best, but stay alert and understand the end game. Continue to stock food. They are obviously coming for food security. –SHTFPlan
China's National Health Commission on Tuesday said a four-year-old boy living in central Henan province tested positive for the strain after being hospitalized earlier this month with a fever and other symptoms. The boy's family raised chickens at home and lived in an area populated by wild ducks, the NHC said in a statement.
China said that this is a "one-off cross-species transmission, and the risk of large-scale transmission is low" while simultaneously warning people to stay away from birds and seek medical attention for a fever respiratory symptoms.