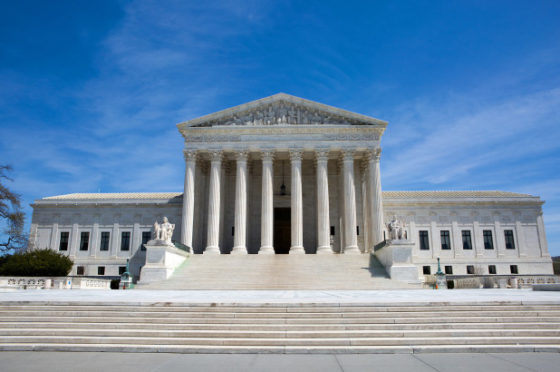 According to Mark Taylor, the firefighter prophet who claims God speaks to him, Donald Trump will get to appoint five Supreme Court justices during his tenure as president.  Taylor says God has chosen Trump to do his will and his "anointed one" will "stack the court," in order to "send a clear message to the enemy."
This prophecy was remembered in the wake of Supreme Court Justice Anthony Kennedy's announcement that he will retire and Trump will be able to appoint his second justice. This latest vacancy now brings Mark Taylor's prophecy one step closer to fruition.
On February 16, 2016, Mark received a prophecy regarding the Supreme Court.  In the document entitled "Do Not Fear America" God allegedly reveals his plans for the Highest Court in the United States to Taylor.  Here is an excerpt of this prophecy:
The Spirit of God says, "Do not fear that my servant Justice Scalia has been taken, for some are crying out, why have I forsaken. For I will show myself strong to prove that the so called wise are wrong. For some will say that this is a miracle, for I am just getting started, this is not even close to the pinnacle, for what I am going to do with My America. For do not my people have eyes to see and ears to hear the two signs I gave, when they carried my servant's body up the steps of the courthouse where to rest he was laid? Read the signs! Read the signs that were for all to see, and understand the words in this prophecy."

The Spirit of God says, "5, that's right, 5 Supreme Court Justices will be appointed by my new president, my anointed. I will choose 5 through my anointed to keep those alive.

I will stack the court with those that I choose, to send a clear message to the enemy, that you lose! This is the miracle that I will perform, so that MY COURT will be reformed."
But in order for this prophecy to be accurate, Trump will need to have the opportunity to appoint three more justices to the Supreme Court, which likely means he also needs to get reelected. CNBC even bemoaned that Kennedy's departure "gives President Trump a second opportunity to fundamentally alter the nation's top court for decades."
However, Taylor has prophecized that Trump will be reelected in November of 2020.
"Well, first off, Donald Trump's not going anywhere, he's here for two terms—period. He will win the second term; it won't even be a contest.  If they thought the first one was a runaway train, wait for the next election," said Taylor in an interview with USA Watchdog's Greg Hunter.