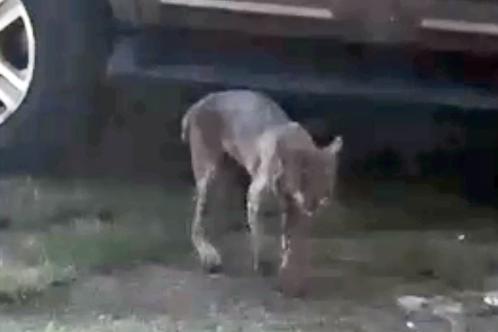 Photo of bobcat taken by DeDe Phillips
A Georgia woman killed a rabid bobcat in her driveway last Thursday as her 5-year-old granddaughter slept inside.
"My first thought [was] not today! I wasn't dying today," DeDe Phillips told CBS46.
She said the bobcat attacked her just moments after she put a sticker on the back of her new truck that says "Women who behave rarely make history."
Phillips walked inside to grab her iPhone to take a picture of the sticker.
She walked out to find the bobcat staring at her.
Seconds after she snapped a photo, it attacked.
"My neighbor's dog was barking and it drew my attention," she told OnlineAthens. "I saw the cat and I took a picture. The cat took two steps and was on top of me. … It came for my face."
"As soon as it took the first step, I was in trouble and I knew it," said Phillips. "When it got to [the] pole, it leaped on me…I grabbed it by the shoulders and pushed it back away from me…and I took it down."
Phillips strangled the bobcat…with her bare hands.
"It caught me slightly on my face, but I got him before he could do much damage there," she told OnlineAthens. "I took it straight to the ground and started inching my hands up to its throat. I knew that was the only way I was getting out of this."
Her home is in the middle of soybean fields, so she never expected to encounter a bobcat. Authorities discovered the animal was rabid, and burned the blood left in her front yard.
Phillips, who has a broken finger and several bite and claw wounds, has begun a round of rabies shots at Northeast Georgia Medical Center.