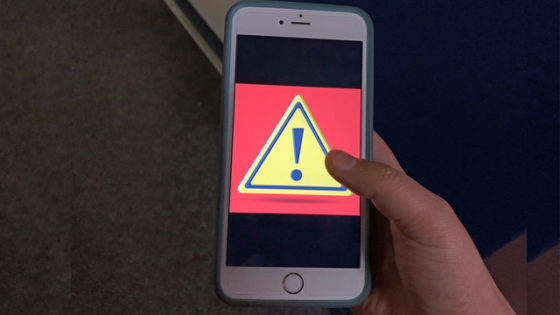 The Federal Emergency Management Agency (known as FEMA) will be sending out a presidential alert today, and no one can opt out. Here's what to expect when the first test occurs around 2:18 pm Eastern Time.
With the push of a button and at the direction of President Donald Trump, an alert will be sent to all cellphones across America at 2:18 p.m. ET on Wednesday.  According to NBC News, the alert will simply read: "THIS IS A TEST." The message is scheduled to be the first trial of the "Presidential Alert" system, a new way to notify Americans across the country of national emergencies.
FEMA initially announced that the system would be tested on September 20, but later pushed it back to October 3, citing the "ongoing response efforts to Hurricane Florence." Reports of the new alert received a flurry of online backlash as many upset leftists Americans jumped to the conclusion that the messaging system would be used inappropriately by the president as his own Twitter-like feed. But Trump appears to be bound by a 2015 law preventing that from happening. Congress enacted the Integrated Public Alert and Warning System Modernization Act to limit the scope of what can be considered a valid emergency alert.
"Except to the extent necessary for testing the public alert and warning system, the public alert and warning system shall not be used to transmit a message that does not relate to a natural disaster, act of terrorism, or other man-made disaster or threat to public safety," the act states.
FEMA oversees the Wireless Emergency Alert (WEA) system, which has sent out 40,000 messages to cellphones since its launch in 2012, warning people of everything from local severe weather to Amber Alerts, which are sent out to notify the public of missing or potentially kidnapped children. The "Presidential Alert" is a new type of WEA notification meant to be used strictly for national emergencies. Unlike other alerts, people with cell phones cannot opt out of the messages, theoretically giving the president a direct line to the mobile devices of around 95 percent of Americans. (To opt out you would have to get rid of your cell phone.)
The only other way for a United States cellphone user to not get the "Presidential Alert" is to have their phone switched off, not be within the range of an active cell tower, or be with a wireless provider not participating in the WEA.
The government solutions director for OnSolve, an emergency notification service that works locally with FEMA, said the system is powerful because of its reach and immediacy. "The [wireless emergency alert] is pretty much sent instantaneously," Don Hall said. According to Hall, there is not much room for a personal message from the president within the alert's current 90-character limitations. "There are plans for the FCC to extend the character count to 360 in May 2019," Hall said. "But as of now, you can't say a whole lot with 90 characters."
So there shouldn't be any fears that Trump will use this as his own personal social media account, however, the alerts still annoy others because of the potential for government to use them to get propaganda messages out.