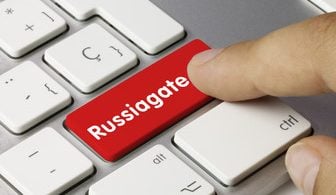 In what could be the final nail in the Russiagate hoax's coffin, a federal judge has destroyed a key claim made by Robert Mueller. A federal judge ruled that Mueller's indictment of a "troll farm" is not actual proof of it.
Mueller's charges against Concord Management & Consulting, the Russian company accused of running a "troll farm" and "sowing discord" on social media in the United States back in 2016 during the presidential election, do not establish a link between that private company and the Russian government, US District Judge Dabney L. Friedrich pointed out.  This was a key aspect of Mueller's Russiagate election interference hoax, and the judge shot holes in it.
According to RT, the special counsel's much-publicized final report claims to have "established" and "confirmed" Russian government activities based in part on the indictment against Concord, which is a breach of prosecutorial rules, Friedrich said.  For example, Mueller's report says that Concord CEO Yevgeny Prigozhin "is widely reported to have ties to Russian President Vladimir Putin." That's an assertion, not evidence. However, the mentally manipulated American populace would never read "widely reported" as anything other than a fact, even though it is far from it. 
Federal judge has issued a significant rebuke of a core Mueller claim. Mueller claims that the IRA — a Russian troll farm — was the 2nd of "two principal interference operations" by Russian gov't. But as judge notes, Mueller's implied link between IRA & Russian gov't was false: pic.twitter.com/UyzApdP5BH

— Aaron Maté (@aaronjmate) July 9, 2019
Judge Friedrich's ruling was issued on May 28, but only unsealed on July 1, and went largely unnoticed by the media until this week, when alternative media became to notice. That's not surprising, given the United States political establishment and the mainstream media's commitment to the "Russiagate" narrative, journalist and author Daniel Lazare told RT. "It's quite a dramatic ruling," Lazare said. "Essentially what it says is that half of Mueller's case doesn't make any sense, it has no evidence to back it up."
Mueller's report argued that Moscow sought to meddle in the election by Concord's "sowing discord" on social media while Russian intelligence stole Democrat emails and released them through WikiLeaks, but neither of those assertions is backed by actual evidence, and now the insinuated link between Concord and the Kremlin has been rejected, Lazare pointed out.
"Americans assume that Russians and Russia are the same thing. But they're not, any more than an individual American and the Trump administration are the same thing," Lazare told RT.
This inconsistency, confirmed by a DC judge, raises new Qs about the validity of Mueller's claim of a "sweeping and systematic" Russian gov't interference campaign. If Mueller was disingenuous in falsely trying to link it to Russian gov't, what else was he disingenuous about?

— Aaron Maté (@aaronjmate) July 9, 2019
Many Are Calling For The Media To Be Held Legally Accountable For Relentlessly Lying To The American People About Russian Collusion
The ruling is "a major blow to the entire 'Russian Active Measures' talking point," journalist Aaron Maté stated on Twitter. The Internet Research Agency put out "juvenile clickbait mostly unrelated to the election," and is a private entity whose connection with the Kremlin Mueller never established, he added. "If Mueller was disingenuous in falsely trying to link it to [the] Russian government, what else was he disingenuous about?"
Deep State Target: How I Got Caught in the Crosshairs of the Plot to Bring Down President Trump