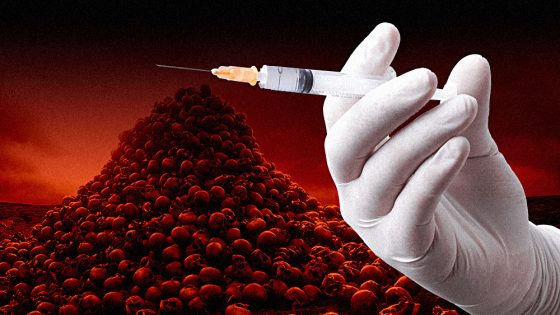 A Health and Human Services federal government employee has come forward as a whistleblower over the contents of the COVID-19 vaccine. According to Project Veritas's new video, one doctor says "the vaccine is full of shit!" The whistleblower, Jodi O'Malley says "this is evil at the highest level," when it comes to what's in these "vaccines."
O'Malley says adverse reactions are not being reported. When O'Malley was asked if she was afraid of retaliation after coming forward, she said "yeah." We already know the ruling class is being disingenuous about how they counting the hospitalizations and using the "unvaccinated" to hide cases, deaths, and vaccine injuries in the vaccinated. So what is this vaccine all about? The end goal is for everyone to take it, but why?
"They are not reporting [adverse effects] because [the ruling class] wants to shove it under the mat," Dr. Maria Gonzales an emergency room doctor said. "All of this is bullshit. Now probably myocarditis due to the vaccine! But now, they're not going to blame the vaccine."
One of the reactions O'Malley witnessed was a 15-year-old with blood clots. He had been vaccinated with the Pfizer vaccine's first dose. There is no reason for a healthy child of the age of 15 to have a blood clot. Nobody is writing a VAERS (Vaccine Adverse Event Reporting System) report because "it takes over a half an hour to write the damn thing," says Deanna Paris a fellow registered nurse.
O'Malley was prompted to contact Project Veritas after one of her coworkers was coerced into taking the vaccine, even though she didn't want to, and eventually passed away from complications due to the vaccine.
"What's plaguing this country is the spirit of fear," O'Malley says.
As I say often, refuse to live in fear. It only prompts the rulers to come down more harshly on the slaves. Remember, we don't need them ruling over us.  They need us to believe we need them and that comes from a place of fear.