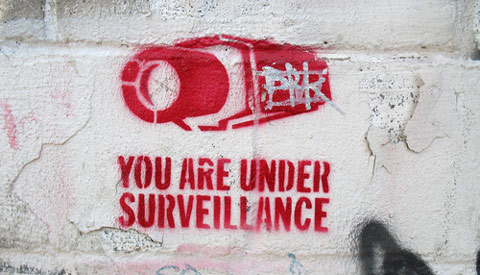 In keeping with the tradition of the FBI's position on gun rights, it appears the Bureau is working overdrive to monitor and harass gun owners and the gun shops that sell to them.
While government surveillance of gun purchases and gun owners is nothing new, a recent visit by an FBI Counterterrorism agent to a Columbia, South Carolina gun shop has only reinforced the knowledge that the U.S. government is growing more and more concerned by the prospect of a well-armed populace – particularly one that prefers to live without constant government interference in their personal lives.
While the narrative surrounding "counterterrorism" operations used to eviscerate civil liberties after 9/11 was initially based upon the threat of Muslim fundamentalists, that narrative has clearly shifted to a focus on gun owning, law-abiding American citizens – both those who are politically active and those who are blissfully ignorant of current events.
For many, this shift of focus has been quite the surprise. Thus, when the Columbia, South Carolina gun shop in question was approached by an FBI counterterrorism agent on Monday, April 14, the individuals who spoke with him were somewhat alarmed to realize that the agent's concern was not fundamentalist Muslims but Americans who promote small government.
According to an individual who was present during the visit (this person will remain anonymous for obvious reasons), the agent pulled up in a regular vehicle in plain clothes and took a look around the shop as if he were considering a purchase before approaching the staff and announcing that he was with the FBI Counterterrorism unit.
"Never in a million years would I have thought this guy was a fed," said the witness. "He was in a completely normal vehicle. Regular clothes. Everything. I would have thought this guy was just some downhome country boy."
After showing proper identification, the agent told the shop owners that he was tasked with all the gun shops in the general area and that he was charged with investigating "suspicious purchases" in accordance with counterterrorism operations.
The suspicious purchases he mentioned, however, were completely normal transactions. This included, paying with cash, purchasing long guns, and other similarly innocuous behavior.
However, what surprised the owners the most was his statement regarding what he was most interested in tracking.
According to the witness, the agent stated, "If you see some Middle Eastern guy come in. You don't have to be so worried about that. What we're really looking for are people talking about being sovereign such as sovereign citizens or people talking about Big Government."
The agent also mentioned that he had a spreadsheet of all the gun shops in the area.
After this brief chat, the agent left a flyer with the shop that listed some of the more generic and normal behaviors which they were expected to view as suspicious.
Some of these trigger behaviors are:
Payment in cash or someone else's credit card.
Reluctant or unwilling to produce valid I.D.
Large purchases or unusual inquiries into buying in bulk
Lack of knowledge involved in firearms or product usage
Hints at illegal or misuse of explosives
New or unknown customers
Nervousness or evasiveness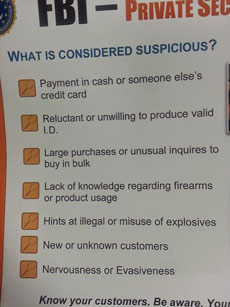 In the end, while the visit to a local gun shop by an FBI Counterterrorism agent is no surprise, it should serve as a stark reminder that the U.S. government is vastly concerned about a well-armed populace. Gun rights have been gradually eroded in the United States for decades but the assault on gun rights has been ratcheted up to a new level by the Obama administration.
Still, those expecting a public declaration of total gun illegality and martial law confiscation will be wringing their hands in anticipation for a very long time. Of course, while they wring their hands and anticipate the declaration of outright war against gun owners, their guns are being slowly stripped from their hands in an incremental fashion. Slight rule changes and isolated confiscations will continue to take place over time until the public has been properly acclimated to them as a fact of life, at which point the public's line in the sand will be moved slightly forward once more. Again, the line will be crossed, but only slightly. Eventually, Americans will wake up to find themselves completely disarmed and neutered in a land in which they once believed they were free. At that point, with a completely defenseless population, the thin veneer of freedom will be lifted.
It is time for gun owners and gun rights activists to go on the political offensive. In 2014, it is no longer a legitimate mode of activism to be content to defend your already attenuated freedoms. It is time to make demands. It is time to throw compromise out the window.
Related Activist Post Article:
25 Reports That Can Put You on the Terror Watch List
Brandon Turbeville is an author out of Florence, South Carolina. He has a Bachelor's Degree from Francis Marion University and is the author of six books, Codex Alimentarius — The End of Health Freedom, 7 Real Conspiracies, Five Sense Solutions and Dispatches From a Dissident, volume 1and volume 2, and The Road to Damascus: The Anglo-American Assault on Syria. Turbeville has published over 300 articles dealing on a wide variety of subjects including health, economics, government corruption, and civil liberties. Brandon Turbeville's podcast Truth on The Tracks can be found every Monday night 9 pm EST at UCYTV.  He is available for radio and TV interviews. Please contact activistpost (at) gmail.com.