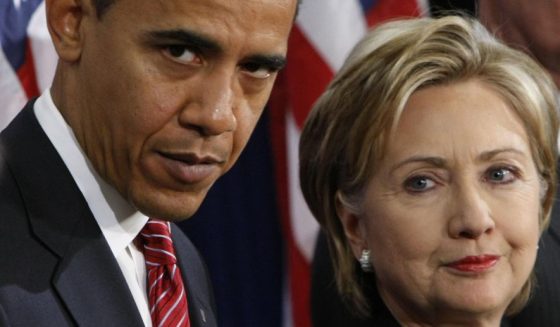 The FBI scandal continues to unfold. Newly discovered texts exchanged by FBI agent Peter Strzok and his mistress Lisa Page reveal probable involvement by former President Barack Obama in the 2016 investigation of Hillary Clinton's use of a private email server.
The text messages appear to clearly state that Barack Obama wanted all the details of the investigation into Hillary Clinton's email scandal.  This would mean that Obama was well aware of everything that was taking place at the time.
According to Fox News, the text messages between FBI paramours Peter Strzok and Lisa Page include an exchange about preparing talking points for then-FBI Director James Comey to give to President Obama, who wanted "to know everything we're doing." The message, from Page to Strzok, was among thousands of texts between the lovers. The pair both worked at one point for Special Counsel Robert Mueller's probe of alleged collusion between the Trump campaign and Russia.
Page also revealed in her text messages with the Strzok that former FBI deputy director Andrew McCabe knew of emails discovered on Clinton aide Huma Abedin's computer on Sept 28, 2016. Comey did not notify Congress of this batch of emails until days before the election on October 28, 2016. The delay in notification and the role McCabe played in the investigation is reportedly an item of interest for FBI inspector general Michael Horowitz in a new report.
In texts previously revealed, Strzok and Page have shown their disdain for Republicans in general, as well as Trump, calling him an "f—ing idiot," among other insults. Among the newly disclosed texts, Strzok also calls Virginians who voted against then-FBI Deputy Director Andrew McCabe's wife for a state Senate seat "ignorant hillbillys." (sic) That text came from Strzok to Page on Nov. 4, 2015, the day after Jill McCabe lost a hotly contested Virginia state Senate election. Strzok said of the result, "Disappointing, but look at the district map. Loudon is being gentrified, but it's still largely ignorant hillbilliys. Good for her for running, but curious if she's energized or never again."
Strozk and Page also discussed a "secret society" and an "insurance policy" in the event that Trump beat Hillary Clinton in the 2016 presidential election.  Senator Ron Johnson, R-Wisconsin, along with majority staff from the Senate Homeland Security and Governmental Affairs Committee, is releasing the texts, along with a report titled, "The Clinton Email Scandal and the FBI's Investigation of it."