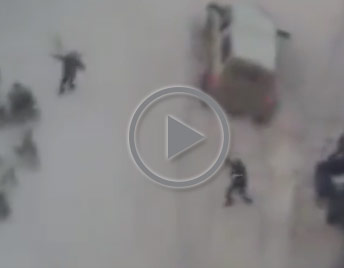 The shooting of LaVoy Finicum by law enforcement agents near the Malheur National Wildlife Refuge had left scores of unanswered questions before video of the incident captured by an FBI helicopter camera was released late Thursday evening. Police claim that Finicum, who had been part of the group protesting Federal land grabs in Oregon, reached for a weapon after being confronted by agents from the Federal Bureau of Investigation.
But an eye witness report from Victoria Sharp, one of the passengers in the vehicle shown in the video below, contradicts initial law enforcement statements.
The video released by the FBI shows a light-colored truck swerving to avoid a police road block and coming to a stop. At this point Finicum exits the vehicle with his arms and hands clearly visible over his head. He is immediately confronted by several law enforcement members armed with handguns and assault rifles.
Footage:
Longer version:
Immediately before he is shot Finicum turns his body and appears to reach towards or across his chest with his right hand. The angle of the camera is such that it obscures what his hands were doing – whether they were reaching for a weapon as the FBI and local Sheriff's Office suggest, or whether Finicum was merely using his arms to balance as he struggled to walk in ankle-deep snow.
Though several law enforcement vehicles were present at the scene, the FBI has only released the aerial footage of the incident. The video's inconclusiveness as to Finicum's intentions will no doubt lead to intense debate about whether police were justified in the shooting or whether it is another example of trigger-happy officials overstepping their bounds with deadly consequences.
Also Read:
Eyewitness: Police Ambushed Oregon Militia Car; With Hands Up, Finicum Said "Just Shoot Me, Then"
Some Call for Reinforcements After Oregon Leaders Arrested: "If They Stop You From Getting Here, Kill Them!"
Ammon Bundy Admits Defeat, Calls On Remaining Oregon Occupiers To "Stand Down, Go Home"