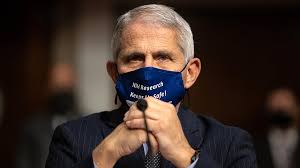 Dr. Anthony Fauci says that we are entering a "risk period" and that we should "act accordingly."  That could be tyrant-speak for: brace for more totalitarian lockdowns and control.
"We are entering into a risk period and we've got to act accordingly as we enter into that risk period," Anthony Fauci, the director of the National Institute of Allergy and Infectious Diseases, said on CNN in late September, as cases began to steadily increase. The "third wave" is officially here, although many of us didn't know there was a second wave of this scamdemic.
"What worries me is that in those areas of the country, which is a large country, heterogeneous in many ways, if you don't have the control now as we get towards the end of September, of getting such a low percentage that it is entirely manageable when things change that work against you, and what works against you now is we're getting into a weather season where people will be spending more time indoors," he stated. "Those are things I get concerned about as we get into October and November and December."
Here is "solid" scamdemic data compiled by the mainstream media propaganda outlet, Time:
Solid data aggregated by @chriswilsondc for @TIME pic.twitter.com/HZXQAlJsyh

— Alexandra Kelley (@not_amazn_alexa) October 26, 2020
As of Oct. 24, there was a weekly average of 23.0 infections per 100,000 residents, up from 20.5 on July 19 and ticking rapidly upward. The country also set a new single-day record on Oct. 23 with 83,757 new cases.

We know now that the third wave will be worse than the second, which was far worse than the first, when cases peaked at 9.7 per 100,000 on April 7. –Time
Take a look at this too:
The twin threads of the COVID-19 pandemic and the 2020 Presidential Election that have cornered the headline market all year were perhaps destined to converge, but the timing couldn't have come any more conspicuously, as deadlines for requesting and submitting mail-in ballots loom or have passed in many states and polling locations scramble to enact safety measures for those who vote in person. –Time
This is purely speculation on my part, but what if they institute a second lockdown right before the election preventing people from voting in person and causing mass hysteria and violence? It's possible, and reading that blurb certainly makes it seem like they are thinking about it if it isn't already a part of their grand plan…
Please make sure your preps are in order. Do an audit, head to the dollar store in your area, and grab anything you might be missing on the cheap now. If nothing happens, at least you are prepared for the next crisis.