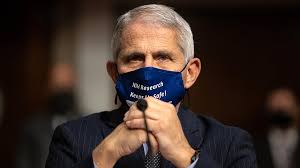 Dr. Anthony Fauci, one of the chief medical tyrants, says that the United States is going to manufacture more of the experimental gene therapy shots and donate them to the world.  This reminds of something:
Ruling Class: The Scamdemic Won't End Until The WHOLE WORLD Is Vaccinated
"We are now working on greatly expanding the capacity to allow us to donate hundreds and hundreds of millions of doses to the low- and middle-income countries," Dr. Anthony Fauci, medical advisor to President Joe Biden, said in an interview Thursday on CNBC's "Closing Bell." Fauci said the U.S. has given more than 120 million doses to 80 countries and has donated $4 billion in resources to the World Health Organization's COVAX vaccine-sharing initiative.
The mainstream media continues to panic the public over the "delta variant." Because they know that people have figured out that if this was a real pandemic, the ruling class and their puppets in the media would not need a 24 hour a day, 7 days a week fear campaign to convince you it's all real. And Fauci says that a continued acceleration of cases could be avoided in the U.S. if more people get vaccinated.
It's all about this shot, which is everything but a vaccine.
COVID-19 mRNA Shots Are Legally Not Vaccines
"There's a lot we can do about it," Fauci said, noting that 90 million people in the U.S. are eligible for vaccines but still haven't gotten the shots. "We want to vaccinate the unvaccinated to the highest extent that we possibly can." The problem the rulers are running into is that this "vaccine" is widely available and free. If the un"vaccinated" wanted it, they would have already lined up, rolled up their sleeves, and been injected twice.
Many globalists have complained that the United States and Israel have been doling out third doses of the shot while other countries don't have the vaccines. That's why Fauci is determined to donate "vaccines."
This is going to be difficult to avoid in the coming months.