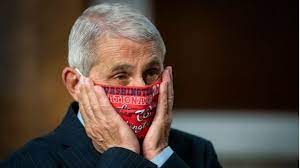 Dr. Anthony Fauci says that we should expect to be injected with COVID boosters every year. He also said COVID is not going anywhere. Never let a good crisis go to waste, especially if your goal is to control and enslave humanity.
Dr. Fauci, the White House chief medical adviser United States head medical tyrant, told PIX 11 in an interview that COVID is here to stay. "We're going to be dealing with this virus on a chronic basis," Fauci said. "We really hope … it will reach a level low enough that it doesn't disrupt us to the extent that it has over the past couple of years."
Earlier this month, the U.S. Centers for Disease Control and Prevention recommended a second COVID vaccine booster shot for those ages 50 and older. All Americans can expect to get regular boosters in the future, according to Fauci, who compared the situation to annual flu shots.
BioNTech CEO Says "Booster" Shots of Pfizer Vaccine Will Be Required Every 12-18 Months
"We know that immunity wanes over time," Fauci said. But is it "immunity" that wanes? Or is it a degradation of the immune system? People who haven't taken the COVID shots appear to be faring much better than those who have taken them.
U.S. Ruling Class Data: Fully "Vaccinated" Are Developing AIDS
Pfizer Knew Their mRNA Injection Caused Immunosuppression or AIDS
"Depending upon what this virus does, there is certainly a reasonably good chance that we will have the same sort of situation that we have with influenza, where every year you have to re-boost people to keep that protection up," Fauci added.
STUDY: There's No Such Thing As Long COVID
The fear-mongering is never-ending as the rulers continue to try to panic the masses. Once the monkeypox scare fades, be ready. Because at some point, they will need a real pandemic to engineer a compliant public.