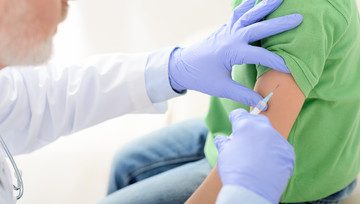 Once the ruling class decides that children should get injected with the experimental mRNA shots, they will need to get three of them.  The United States head medical tyrant, Dr. Anthony Fauci said that the rulers are still deciding by conducting their own trials on little kids.
"Dose and regimen for children 6 months to 24 months worked well, but it turned out the other group from 24 months to 4 years did not yet reach the level of non-inferiority, so the studies are continued," Fauci said, referencing effectiveness standard comparison to adults.
Two clinical trials of the Pfizer vaccine on children ages 6 months to 2 years old, and ages 2 to 4 are underway, but the older group hasn't yet met standards, White House chief medical adviser Dr. Anthony Fauci said at a press conference.  -New York Post
"It looks like it will be a three-dose regimen. I don't think we can predict when we will see it [approved]," he said — adding he can't speak for the Food and Drug Administration. But, if "approval" gets more of this sauce into the veins of more people, we know it they will "approve" it, health and safety be damned. But Fauci also needs you to believe in the system set up by the controllers in order to make sure you take your shots.
"We need to be patient," he said. "That's why the system works. The FDA is very scrupulous in their ability and in their effort to make sure that, before something gets approved for any age, and especially  with children … that they will be safe, and that they will be effective." Sure. That's why the system "works." This really is a cult.
Fauci & Other Rulers Panic: The Anti-"Vaxx" Movement Is "Very Disturbing"
Fauci Now Using CULT Language To Describe His "Believers"
All of this comes as the fully vaccinated are seeing a surge in cases and illnesses.
Fully Vaccinated College Campuses Are Seeing A Surge In COVID Cases
This blows a hole the size of Jupiter in the "pandemic of the unvaccinated" narrative the ruling class is so desperate to propagate.