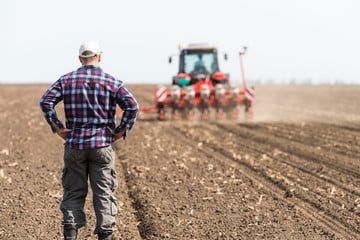 The problems with farming in the United States continue to worsen.  As if the suicides and bankruptcies aren't already taking their toll on a flailing industry, farmers are now coping with the fact the president Donald Trump has taken away their largest customer by insisting on continuing the trade war.
Farmers have long been the casualties of this trade war as the government attempts to kill the free market. While consumers are expected to bear the brunt of the tariffs, farmers are now unable to sell their products in China, leaving them with few options as well.  China has officially canceled all purchases of U.S. agricultural products, a retaliatory move following President Donald Trump's pledge to slap 10% tariffs on $300 billion of Chinese imports.
According to a report by CNBC, Bob Kuylen, a farmer of 35 years in North Dakota, told the media outlet: "It's really, really getting bad out here. There's no incentive to keep farming, except that I've invested everything I have in farming, and it's hard to walk away." Without farmers, this country will go through a massive food crisis as we've never before seen; and this one is all on Trump.
China's refusal to buy U.S. crops piles on to an already devastating year for farmers, who have struggled through record flooding and an extreme heatwave that destroyed crop yields, and trade war escalations that have lowered prices and profits this year. "Trump is ruining our markets. No one is buying our product no more, and we have no markets no more."
Agriculture exports to China dropped by more than half last year. In 2017, China imported $19.5 billion in agricultural goods, making it the second-largest buyer overall for American farmers. In 2018, that dropped to $9.2 billion as the trade war escalated, according to the United States Department of Agriculture. This year, China's agricultural imports from the U.S are down roughly 20%, and U.S. grain, dairy and livestock farmers have seen their revenue evaporate as a result. Over the last 6 years, farm income has dropped 45% from $123.4 billion in 2013 to $63 billion last year, according to the USDA.
Zippy Duvall, president of the American Farm Bureau Federation, said China's exit is a "body blow to thousands of farmers and ranchers who are already struggling to get by."
https://www.shtfplan.com/headline-news/american-farmers-are-losing-patience-and-money-in-record-numbers_05142019
China's exit will most impact grain farmers across the U.S. more than any others, although none appear immune to this trade war. China is the world's top buyer of American soybeans, buying about 60% of U.S. soybean exports last year. Analysts estimate that soybean prices have dropped 9% since the beginning of the trade war, as the economic law of supply and demand continues to prove concrete. Soybean exports to China have dropped by 75% from September 2018 to May 2019, compared to the same nine-month period in 2017 and 2018, according to data from the USDA.
"It's killing us," said Mark Watne, a wheat and soybean farmer who is president of the North Dakota Farmers Union. Watne said he lost $3 per bushel of soybeans he planted this year. Most farmers aren't happy about the subsidies either, as they understand the Amerian taxpayer is going to be footing the bill. "And I don't think it's right for the American taxpayer to subsidize this segment of the economy just because of what I see as a mistake of a trade war," said Allen Williams, who's farmed for nearly 50 years in Illinois.
The consensus is that the elimination of free trade and the taxation levied on the American consumer is good for no one.
In this classic book, Capitalism and Freedom: Fortieth Anniversary Edition
, Milton Friedman provides the definitive statement of his immensely influential economic philosophy—one in which competitive capitalism serves as both a device for achieving economic freedom and a necessary condition for political freedom.