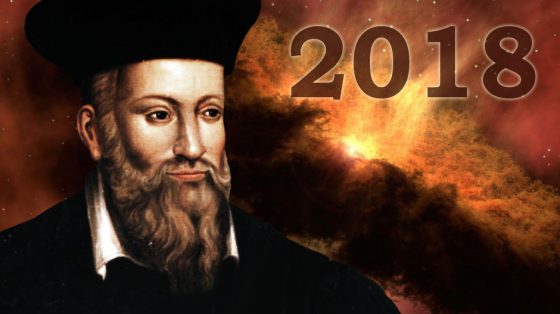 Notable psychic Nostradamus put together a series of predictions, which some scholars say point to this year, 2018.  In these predictions, are dire situations such as war, death, and economic hardships.  But there is also a silver lining…
Nostradamus has predicted terrible things for 2018, however, the good thing could be that life spans after all of this trauma could expand to up to 200 years.  But before that, the French prophet says we have to endure World War 3.
The most chilling prediction for 2018 is from Nostradamus' book Les Propheties. It includes a quatrain that some have interpreted as describing the start of the third world war.  "The big war will start in France and all Europe will be attacked, it will be long and terrifying for everyone and then finally there will be peace but only a few will enjoy it," said Nostradamus.  "A war will start between the two great world powers and it will last for a period of 27 years." Some scholars have predicted China, Russia, and North Korea will unite to take on the United States.
As if a worldwide war, likely a nuclear war as well, isn't bad enough, Nostradamus also predicted that Mount Vesuvius will erupt violently.  The Italian volcano will "shake the earth every five minutes," and at least 6,000 people will be killed, according to the prophecy. In early 2016, more than 1.5 million people were warned they are were living in the danger zone of the supervolcano. At that time, it was also clarified that the volcano could go off anytime causing a global catastrophe. Half of the three million people living in Naples were told they live in a new yellow danger zone of the Vesuvius supervolcano, the infamous peak which was responsible for the historic destruction of Pompeii in 79AD.
Nostradamus also appears to have predicted the United States will suffer a major earthquake we've come to know as "the Big One."  According to the prediction, "An earthquake shall concern particularly the western area of the United States. Its power shall be felt in lands throughout the globe." Worryingly, the US Geological Survey (USGS) carefully monitors seismic activity in the Cascadia Subduction Zone, where there were a series of medium tremors in 2016, and two fault lines in California, including San Andreas. Scientists say both the California fault lines and the Cascadia Subduction Zone are long overdue a major earthquake of magnitude eight or above.
The Cascadia Subduction Zone appears to be of utmost concern. It runs about 60 miles offshore along the Pacific coast from northern California to Vancouver Island, so major cities including Portland, Seattle, and Vancouver are within its tsunami range, threatening millions of people's lives and major infrastructure.
Some also say that Nostradamus predicted an economic collapse. According to his prophecies, "the rich would die many times over." This is taken by many to mean the global economic collapse as a result of WW3 and the effects of many natural disasters will generate an apocalyptic cumulative effect of despair and disaster.
But the one bright point is that those who pull through all of these disasters could see their life expectancy skyrocket.  Nostradamus also predicted that humans could live up to 200 years after the apocalypse.