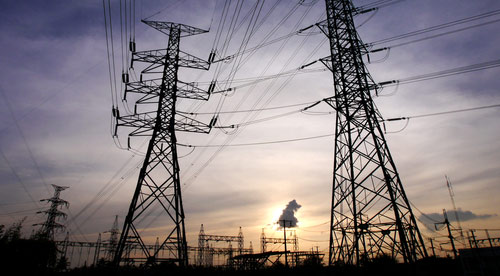 As if there isn't enough to worry about already, it seems there is new confirmation that our entire society is hanging by a thread.
The 21st Century is run off of electricity, and in the United States, that electric grid is woefully out of date – and that has left the country quite vulnerable. People's daily lives depend upon reliable energy, and there are many, such as hospital patients, whose very survival depends upon electricity in the short term.
But in the event of a long-term outage, nearly everyone's lives would be placed in jeopardy, as commerce, deliveries, fuel, communications and more would grind to a halt.
According to the Wall Street Journal made clear in their special report, the dated grid is completely vulnerable to attack:
The Bakersfield attacks last year were among dozens of break-ins examined by The Wall Street Journal that show how, despite federal orders to secure the power grid, tens of thousands of substations are still vulnerable to saboteurs.

The U.S. electric system is in danger of widespread blackouts lasting days, weeks or longer through the destruction of sensitive, hard-to-replace equipment.

Most substations are unmanned and often protected chiefly by chain-link fences. Many have no electronic security, leaving attacks unnoticed until after the damage is done. Even if there are security cameras, they often prove worthless. In some cases, alarms are simply ignored.

The vulnerability of substations was broadly revealed in a Journal account of a 2013 attack on PG&E's Metcalf facility near San Jose, Calif. Gunmen knocked out 17 transformers that help power Silicon Valley; a blackout was narrowly averted. The assailants were never caught.
It isn't just EMPs and natural disaster that poses a threat to the grid, but there is also the potential for attacks on individual power substations in the vast network of decentralized and largely unguarded power grid chain. A U.S. government study established that there would be "major, extended blackouts if more than three key substations were destroyed."
Whether by criminals, looters, terrorists, gangs or pranksters, it would take very little to bring down the present system, and there is currently very little the system can do to protect against this wide open threat. As the WSJ notes:
Federal officials have long known about the vulnerability of electrical substations. A 1990 report from the federal Office of Technology Assessment warned that "virtually any region would suffer major, extended blackouts if more than three key substations were destroyed."

[…] individual substations "if rendered inoperable or damaged could result in widespread instability," or cascading blackouts in any of the three separate sections of the U.S. power grid.
As things stand, California is already warning residents to expect up to 14 days of blackouts during the summer due to overload in the system. Just imagine how much bigger the disaster could get if something were done intentionally.
This video shows what happened when a group of white hat hackers broke into a power station to demonstrate what they can do given the lack of security, and the potential for mischief:
Homeland Security has been engaging in drill scenarios with the private sector to prepare a response for if/when the grid does fail, but the simple truth is there would be no quick solution, and thousands or even millions of people could die in a large scale shutdown of the power system.
Read more:
Blackout: California In Power Grid Emergency: "All Customers Should Expect 14 Days Without Power"
GridExIII Drill Coincides with American Terror Threat: "ISIS Cells Could Attack Our Power Grid"
EMP Threat: 'Within One Year 9 Out of 10 Americans Would Be Dead'
You've Been Warned: Why You Need to Be Ready for Total Grid Failure
NSA Chief Warns Black Energy Attack On U.S. Power Grid A 'Matter Of When, Not If' – Lights Out Scenario Not A Myth But A Coming Reality