This report was originally published at the Intellihub.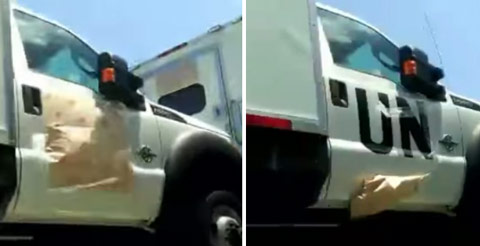 Over the last three months there have been dozens of suspicious sightings of military and UN equipment being moved throughout the country coupled with numerous realistic military training exercises with a sharp domestic focus.
This is all happening in the lead up to Jade Helm 2015 which has sparked a plethora of theories and strong opinions on what is actually happening.
Now, footage taken in Northern Louisiana is causing even more of a stir after it showed United Nations vehicles traveling down the freeway with their logos intentionally covered with brown paper.
The video footage shows one UN truck with the brown paper partially peeled off, most likely due to the wind. The other UN vehicle still has its cover on as it travels down the highway.
Although some have theorized that the vehicles may have simply been purchased from the UN and were covering the logo because they were no longer representing the United Nations, that theory doesn't seem to add up, especially when you consider the multiple other strange UN sightings in the last three months as well as the unprecedented number of military movements leading into Jade Helm 2015.
What do you think?
Is this something the American people should be worried about or is the looming threat of Jade Helm 2015 causing unneeded worry?
Read more about Jade Helm here
Intellihub News is a leading independent news agency covering a wide range of issues including globalism, the increasing police state, and the control of media by a small number of corrupt corporations.
---
Related Reading:
United Nations seeks U.S.-based disarmament, demobilization and reintegration specialists
Where Is the Proof that UN Soldiers are Actively Operating on American Soil? Oh, Right Here…
Analysis: United Nations Assets Will Be Deployed in USA To Resolve "International Crisis" On Border
Foreign Boots on American Soil: Russia To Share Military "Security Experts" With United States During Mass Disaster Incidents and Emergencies