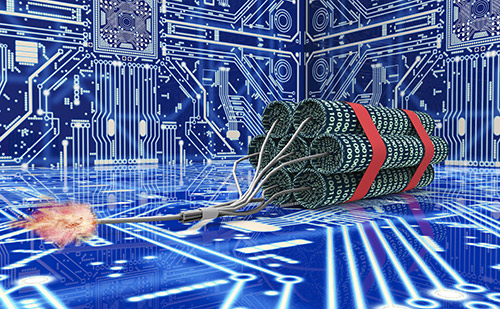 In response to an attack on Syria, Russia has launched a cyberwar against the United Kingdom. This "dirty trick" campaign will be against the United States as well, and Boris Johnson, the UK's Foreign Secretary, says retaliation plans against Russia should be made now.
According to The Telegraph UK, Whitehall sources on Sunday night confirmed a Pentagon analysis that showed a 20-fold increase in Russian-sourced "disinformation" being spread online since the cruise missile attacks on Syria in the early hours of Saturday. This ramped up the fears that it could be a precursor to a campaign of cyber attacks by the Kremlin, and the Foreign Secretary said Britain must take "every possible precaution" to guard against it.
The attack on Syria by Western powers has put officials in the UK on edge. They now feel that Russia will retaliate with a cyber attack against UK hospitals and other services including air traffic control, and one expert believes such an attack is imminent. Counter-terrorism expert Michael Clarke, who specializes in defense studies, has urged the public to be ready for "cyber warfare" within the next two or three weeks.
"I suspect Russia will choose not to respond in military terms. But cyber warfare is highly likely," said Clarke. "It will be an attack on national infrastructure, not just upsetting city firms, but getting inside the transport system, or the health system, or air traffic control. It could affect everyone."
The UK, US, and France launched 105 missiles at suspected chemical weapons sites in three strikes in Damascus and near Homs on Saturday, and Russian President Putin warned that the US-led strike against Syria would result in "consequences" against the Allied forces, without stating what they would be.