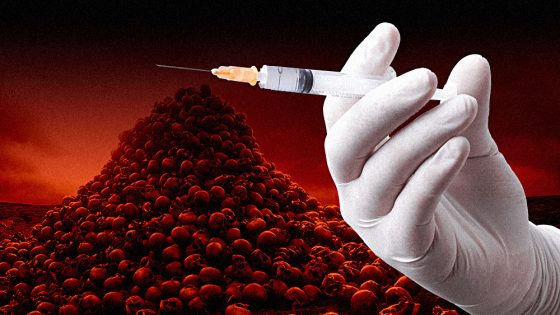 Even though according to the ruling classes' own data, 146 million doses of some kind of experimental gene therapy being falsely dubbed "vaccines" have been administered in the United States, COVID-19 cases are still rising. Remember, a case doesn't mean "infected," it means the person received a positive result from a highly unreliable PCR test.
Study Results: CDC Inflated COVID Numbers By 1600%
The fear over COVID will continue until we, the people, have had enough. We are getting to that point, but when it's reached, a new fear will arise to take it's place so those in power can remain so.
Calling it a race between vaccinations and variants, Ashish Jha, a public health policy researcher and dean of Brown University's School of Public Health, tweeted: "Well, despite phenomenal vaccination rates, variants pulled ahead this week."
We know its a race between vaccinations & variants

Well, despite phenomenal vaccination rates, variants pulled ahead this week

Infections up in 34 states

Test positivity up in 38

Hospitalizations up in 20

Holding tight until more folks vaccinated key to winning this race pic.twitter.com/15SbgPx5JU

— Ashish K. Jha, MD, MPH (@ashishkjha) March 28, 2021
So what should you do if you were the good and obedient slave to the ruling class? Just stay enslaved. That's literally all they are asking for. Obey, comply, don't ask questions, and get your gene therapy shot.
"There is a case for optimism, but there is not a case for relaxation," said Jeff Zients, the White House coronavirus coordinator, at a press conference on March 26. "This is not the time to let down our guard. We need to follow the public health guidance, wear a mask, socially distance, and get a vaccine when it's your turn."
The ruling classes' mainstream media puppets have also ramped up the fear-mongering over variants in recent weeks. For example, NPR reported that "health officials warn that the country is now facing a more difficult foe than in earlier stages of the pandemic — strains of the coronavirus have mutated to spread more easily and to possibly cause more severe disease." According to a tally maintained by the CDC, these so-called "variants of concern" have shown up in every state and are increasingly dominant in the places where they have emerged.
Do not let your guard down, and do not cease the use of your own discernment. Use critical thinking skills to read between their lines and together, we can figure out the best way to prepare for what they may have planned. The New World Order agenda will go forward regardless and it's up to us to make sure we know where we stand and how enslaved we intend to be.