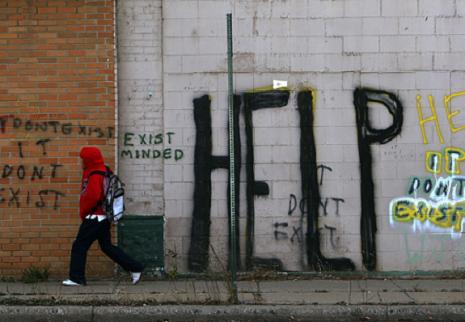 The downsizing of the Middle Class has become so huge that even mainstream American corporations like Walmart, Campbell Soup and Hershey are hurting from the loss of their mainstream demographic.
Most Americans are so strapped for cash at this point, that they can little afford to splurge on anything but the basics. As a result, stores are shifting their appeal to wealthier, upper class niches where they hope to turn a profit.
Welcome to the "changing income landscape" in the United States and beyond… according to those in the know, it is a "seismic shift" of epic proportions.
By all accounts, this isn't going away anytime soon.
As Boing Boing puts it bluntly:
From Walmart to Hershey to Campbell's Soup, America's biggest retailers and manufacturers are warning their shareholders that flat growth is a fact of life because of "consumer bifurcation," which is plutocrat-speak for "everyone is broke except the one percent." The companies' plan for rescuing themselves is to turn themselves into luxury brands targeted at the wealthy.
The Business Insider goes into more detail:
The disappearing middle class is challenging many major American brands.

Company executives blamed the disappointing results in part on the changing income landscape in the US.

"We think that consumer bifurcation has been an important driver," Hershey CEO John Bilbrey said on an earnings call, referring to the growing gap between upper-income and lower-income consumers.

[…]

"While overall consumer confidence is trending up, lower income consumers continue to be fragile as income and wage growth has been minimal," he said. "Higher income and more confident consumers are driving premium growth, while cost-conscious consumers are driving the value segment."

[…]

Campbell Soup CEO Denise Morrison also recently identified "a shrinking middle class in developed markets" as one of four "seismic" shifts that are impacting her company.

Even Walmart, which is known for its cheap prices, is tailoring its business strategy to the expectation that growth will come from upper-income households in the years ahead.
How exactly Walmart plans to shift from appealing to the masses with cheap plastic household goods to exclusive luxury items for the well-off isn't clear, but the facts remain – the income divide is deepening, and the so-called "recovery" is falling into a deep depression.
Middle class and lower income families have seen absolutely no wealth growth since 2009, and jobs have become increasingly difficult. As the Business Insider points out, the trend has been ongoing since the 1970s, when many jobs began moving offshore.
The share of households in the middle tier of income earners has fallen to 43% from 55% since the 1970s, according to The New York Times.
Meanwhile, the wealth gap continues to grow. It isn't about envying the rich, but about making ends meet for the rest of us. Pew Research shows the progression of disparity, which has now reached an alarming high point: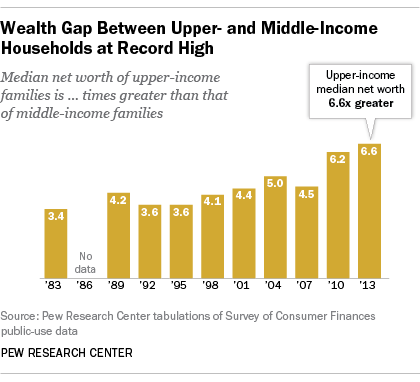 That's just the gap between those who truly rank in the middle class versus the rich. The gap between the poor and working classes and the wealthiest is ten times greater:
A new Pew Research Center analysis of wealth finds the gap between America's upper-income and middle-income families has reached its highest level on record. In 2013, the median wealth of the nation's upper-income families ($639,400) was nearly seven times the median wealth of middle-income families ($96,500), the widest wealth gap seen in 30 years when the Federal Reserve began collecting these data.

In addition, America's upper-income families have a median net worth that is nearly 70 times that of the country's lower-income families, also the widest wealth gap between these families in 30 years.
And just think, things can get worse. Much worse.
Sadly, there is every indication that this is just the beginning of an economic fallout that will drive tens of millions more into poverty and struggle.
If these major companies, many of whom already specialize in discount goods, are having trouble because the average Americans who shop in their stores are too poor to buy much of anything, then there is obviously a problem that is in serious danger of snowballing.
Many of the elite know this, and are taking cover from the storm.
Read more:
THIS CHART Tells a Story… America's Middle Class Thrived After WWII and Died Under Obama
"By Any Standard, Wealth Inequality At Historic Levels" Since Recovery From 2008 Economic Crisis
Hank Paulson Has A Good Laugh Over Wealth Inequality: "We Made It Wider"
Why The Elite Are Buying Secret Hideaways: "A Lot of Wealthy and Powerful People Are Quite Afraid Right Now"
Wealth Gap is Destroying Families: "Race Matters Far Less and Class Matters Far More"