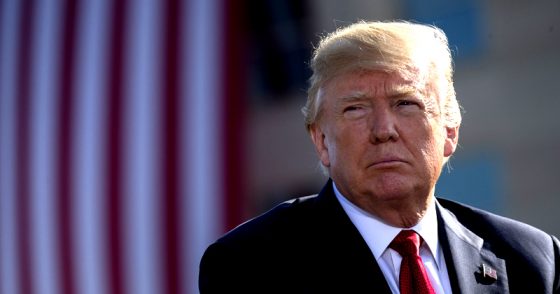 Another day, another pathetic attack on Donald Trump, this time with the laughable claim that the president may not actually be able to read.
That's right, Trump derangement syndrome has "reached its peak" and has even increased with the release of a so far uncorroborated book by anti-Trump author Michael Wolff that claims that almost every person who comes into contact with the president believes him to be a moron.
Keep in mind that this comes at the same time that the media and leftists throughout the country are also trying to claim that Trump is mentally unstable.
Infowars reports:
The latest talking media point, in addition to the notion that the President is mentally unstable, is that Trump is probably also illiterate.

The point was raised, predictably, on MSNBC's Morning Joe, with Joe Scarborough declaring "[Trump] doesn't read. He didn't read. […] [T]here has been a question of whether this guy can read, whether he does read."
Scarborough noted that Wolff's book contends that "senior staffers at the White House have low opinions of the President's intelligence."

"There are many creative words. Quote: 'Trump didn't read. He didn't really even skim. If it was print, it might as well not exist. Some believed that for all practical purposes, he was no more than semi-literate.'" Scarborough stated as he read from the text.

"For Steve Mnuchin and Reince Priebus, he was an "idiot." For Gary Cohn, he was "dumb as" blank [on screen: "s**t"]. For H.R. McMaster he was a 'dope.'" the host continued.
Scarborough then launched into what can only be described as straight up disinformation coming from a man that openly hates the president and has shown his willingness to do whatever it takes to hurt him.
He doesn't read. He didn't read. I remember one time in a, uh, let's just say a tense, uh, uh, uh, meeting with Donald Trump, I actually after, I think it was the, uh, right after the first debate, I said, uh — and of course we disagreed on his performance. I thought it was horrible. He thought it was the greatest debate performance ever.

I said: Donald, let me ask you a question. Do you read? Do you read? And he just stared back at me and made Mika a little nervous, uh, for me to be insulting this guy. I go: Do you read? If somebody — and, um, this is verbate. If somebody wrote you a one-page memo, and, and, and wrote a one-page memo for every issue, could you read it?

And he lifted up his Bible, his childhood Bible. He goes: Of course I read. Uh, that was the wrong book for him to hold up to say he read it. But, there, there has been a question of whether this guy can read, whether he does read.

Uh, and inside the White House, again, we've all heard these complaints. He refuses to read anything. He gets bored, uh, after about fifteen seconds of even people talking to him.
Make no mistake folks this is hardcore fake news and reeks of absolute desperation by an establishment that has gone ALL OUT to take out the president and has so far failed miserably, with the American people continuing to support him despite this full-scale disinformation operation.