This article was contributed by Lior Gantz of the Wealth Research Group.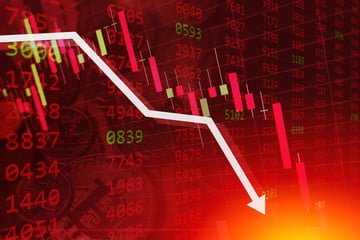 The NASDAQ 100 has GONE DOWN from 12,420 to 10,833 points from September 2nd to September 23rd, a -12.8% CORRECTION! During that same period, the S&P 500 has HEADED SOUTH by -10% from 3,580 points to 3,226. This is AWFULLY SIMILAR to the period of September 2018.
Back then, the S&P 500 also hit an ALL-TIME HIGH (as it did just recently), went into a DEEP DIVE, flattened in October, and GOT BUTCHERED in December – a total decline of NEARLY 20%!
It was also a BRUTAL PERIOD for precious metals since the backdrop for this WHOLE EPISODE was Jerome Powell's automatic rate hikes policy.
We have NO SUCH THING on the plate at the moment, so in my view, this was a correction WORTH BUYING and that's what I did personally.
We believe that the September 2nd ALL-TIME HIGH reached just three weeks ago, will stand supreme for a FULL YEAR.
Markets, as we view them, are range-bound for the next 6-12 months…
There's an ENORMOUS SHORT POSITION on the NASDAQ 100, which indicates that we've probably bottomed for this correction, but we also fail to conceptualize that ANIMAL SPIRITS will prevail.
Between Covid-19, the elections, Brexit, and the already pricy stock market, we're calling for a SIDEWAYS TRADING pattern.
This is good for MINING STOCKS, because it shines a light, IN CONTRAST, on their growing earnings, thanks to higher commodity prices.
ONE MAJOR LESSON OF 2020
The power of blindly trusting in the INTEGRITY OF LIFE was made apparent to me this year.
Between the various propaganda tools and the hundreds of thousands of conflicting opinions and beliefs on what the right thing to do is, I found I was INCREASINGLY DISTANCING myself from the ceaseless flow of subjective information thrown at me.
More and more, I went inside the chambers of my mind to solidify the characteristics and values that I care to embody in daily living, no matter how OUTSIDERS were behaving. I looked to reach a sense of detachment from criticism.
A major lesson for me is to reach a LOOSENED state of mind towards any statement or action taken by a specific person, keeping a high level of tolerance towards all and a LIGHT VIBE of humor, even when an individual seeks to undermine me.
There are GROWING DISAGREEMENTS between countries and within the country itself; the only way to be effective about it is to LET IT SLIDE, without secretly wanting to have the opposing person AGREE with us or think we're right. We must show the other side that our way of doing things is better, BY WAY of RESULTS, and not by preaching it to existence.
Optimism is the MAGIC FORMULA; if you can maintain your charm and A DEGREE OF PATIENCE, even when confronted by seemingly impossible conditions, you'll have a HEALTHY OUTLOOK and I bet you'll ENJOY LIFE, even in the midst of chaos!
Focus on optimism, patience, tolerance, poise, and humor, even in ADVERSE SITUATIONS; you'll be most effective.