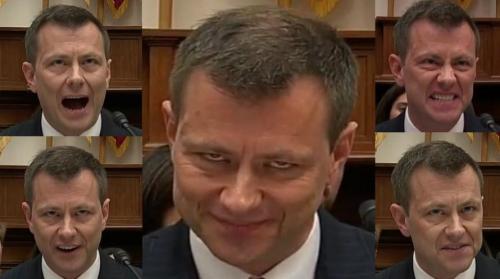 Former FBI agent Peter Strzok, in a wrongful termination lawsuit, says his free speech was violated. Strzok, who infamously wrote the anti-Trump text messages that proved FBI collusion with the deep state in matters against President Donald Trump.
Strzok, the ex-FBI agent who launched the bureau's Russia probe (proven to be a massive hoax) in 2016 and was fired two years later for sending anti-Trump text messages amid the probe to Lisa Page, with whom Strzok was having an affair. The embattled former agent alleged in a new court filing Monday that the FBI and Justice Department violated his rights to free speech and privacy, according to a report by Market Watch.
It sure is funny when the deep state agents complain about their lack of free speech. The court document was filed in response to the Justice Department's motion to dismiss Strzok's wrongful-termination lawsuit, which Strzok filed in August, Politico reported. 
The filing raised questions about the ability of rank-and-file government employees to share personal political opinions on matters of public interest — including on government-issued devices — as Strzok and former FBI lawyer Lisa Page, did about Trump, according to the report. –Market Watch
The Justice Department argued that Strzok's role in high-profile FBI investigations "imposed on him a higher burden of caution with respect to his speech."But Strzok's legal team replied that "roughly eight thousand other SES-level managers are similarly situated to Strzok in the federal workforce in that they supervise employees, but the vast majority of those employees are not policy-makers."
"The government's argument would leave thousands of career federal government employees without protections from discipline over the content of their political speech," they wrote in Monday's filing in federal court in Washington.
The problem here doesn't appear to be free speech, but Strzok's political bias.  Neutrality is key if we ever expect justice to be served fairly, and it's quite obvious that Strzok has an anti-Trump bias.
He made headlines when it was revealed that Strzok wrote to Page, with whom he was or had been involved in an extramarital affair, on their FBI email accounts calling Trump an "idiot" and discussing an "insurance policy" against his becoming president.
"He Belongs In Leavenworth Prison": Former FBI Assistant Director Calls For Clinton Operative And Disgraced FBI Agent Peter Strzok To Be Arrested
The Justice Department argued last month that he and Page never should have had an expectation of privacy since they exchanged messages on their FBI-issued phones. However, an internal investigation also revealed that neither Strzok or Page's anti-Trump views influenced their work. Translation: we investigated ourselves and found out we did nothing wrong in our investigations.
Page also filed a lawsuit against the Justice Department alleging a Privacy Act violation over the release of the texts.