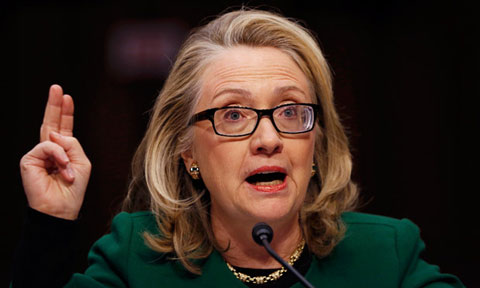 This article was originally published by Michael Krieger at his site LibertyBlitzkrieg. Please visit his site.
Editor's Comment: Oh, the irony of a closet overstuffed with secrets! Even the secrets have their scandals. But as the Hillary Clinton email scandal continues, it seems more and more apparent that someone, or many someones, are working feverishly to discredit the power hungry former Secretary of State, Senator and First Lady.
While any sensible person wary of would-be dictators should welcome a derailed Hillary 2016 campaign – for trying too much to usurp our rights and powers – it is also wise to consider who else in power might be celebrating and contributing to her demise. SHTF's previous reports on the vicious Obama-Clinton rivalry, including White House At War With Clintons: "Obama Does Not Want To See Hillary Become President Of The United States", suggests a possible powerplay and motive behind FBI probes and other state instruments being used to keep Hillary embroiled in scandal before her campaign can even get started.
Is Valerie Jarrett organizing such a campaign? Has this been going on ever since the behind-the-scenes negotiations during the 2008 election between the two Democratic rivals? If Jarrett is not behind the ongoing release of these scandals, who is gunning for Hillary so far ahead of the general election for 2016? Who really stands to inherit the already-abusive powers of government, and move the country further down the field towards tyranny?
Released Hillary Clinton Emails Reveal…She Was Reading a Book on How to Delete Emails
by Michael Krieger
As I've said many times before, the best part about Hillary Clinton running for President, is that she's so unbelievably corrupt and shady, not a week goes by without a new scandal or embarrassment. It makes the insulting charade of U.S. elections at least somewhat comical.
In the latest gaffe, we learn (through her own emails), that she asked to borrow a book titled, Send: Why People Email So Badly and How to Do It Better." Chapter Six of this book is titled, "The Email That Can Land You In Jail," which includes a section titled: "How to Delete Something So It Stays Deleted."
You can't make this stuff up.
From ABC News:
The last batch of Hillary Clinton emails released by the State Department included one from Clinton asking to borrow a book called "Send: Why People Email So Badly and How to Do It Better," by David Shipley and Will Schwalbe.

Clinton has not said why she requested the book, but it includes some advice that is particularly interesting in light of the controversy over her unconventional email arrangement at the State Department and her decision to delete tens of thousands of emails she deemed to be purely personal.

Take, for example, Chapter Six: "The Email That Can Land You In Jail." The chapter includes a section entitled "How to Delete Something So It Stays Deleted."

The chapter advised that to truly delete emails may require a special rewriting program "to make sure that it's not just elsewhere on the drive but has in fact been written over sixteen or twenty times and rendered undefinable."

But Shipley and Schwalbe warn that deleting emails could lead to future legal troubles.
Here's a screenshot of the email from ABC:
Smell blood yet Bernie?
Bernie Sanders Takes the Lead from Hillary in Latest New Hampshire Poll
For related articles, see:
So Yeah, Hillary Clinton Did Send Classified Emails From Her Private Account After All
Hillary Clinton Blasts High Frequency Trading Ahead of Fundraiser with High Frequency Trader
Cartoons Mocking "Goldman Rats" and Hillary Clinton Appear All Over NYC
Arizona State Hikes Tuition Dramatically, Yet Pays the Clintons $500,000 to Make an Appearance
How Donations to the Clinton Foundation Led to Tens of Billions in Weapons Sales to Autocratic Regimes
In Liberty,
Michael Krieger
This article was originally published by Michael Kreiger at his site LibertyBlitzkrieg. Please visit his site.