This article was originally published by Tyler Durden at Zero Hedge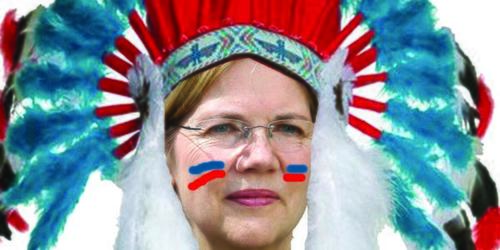 Update: The Cherokee Nation has issued a statement slamming Warren for her "continued claims of tribal heritage."
"A DNA test is useless to determine tribal citizenship. Current DNA tests do not even distinguish whether a person's ancestors were indigenous to North or South America. Sovereign tribal nations set their own legal requirements for citizenship, and while DNA tests can be used to determine lineage, such as paternity to an individual, it is not evidence for tribal affiliation. Using a DNA test to lay claim to any connection to the Cherokee Nation or any tribal nation, even vaguely, is inappropriate and wrong. It makes a mockery out of DNA tests and its legitimate uses while also dishonoring legitimate tribal governments and their citizens, who ancestors are well documented and whose heritage is prove. Senator Warren is undermining tribal interests with her continued claims of tribal heritage."

– Cherokee Nation Secretary of State Chuck Hoskin, Jr.
Elizabeth Warren just owned herself after releasing a DNA test confirming that she's as little as 1/1024th Native American – about half the percentage of the average white person.
So Elizabeth Warren is *possibly* 1/1024 (0.09%) Native American.

Scientists say the average European-American is 0.18% Native American. (https://t.co/XU0l1JQO1L)

That'd make Warren even less Native American than the average European-American.

— Michael Ahrens (@michael_ahrens) October 15, 2018
What's more, the DNA expert she used, Stanford University professor Carlos Bustamente, "used samples from Mexico, Peru, and Colombia to stand in for Native American" as opposed to, say, DNA from a Cherokee Indian which Warren has claimed to be throughout her career.
Adding to the absurdity are two major corrections by the Boston Globe (which has become the media mouthpiece of Warren's 2020 damage control efforts of late), letting readers know that "Due to a math error, a story about Elizabeth Warren misstated the ancestry percentage of a potential 10th generation relative. It should be 1/1,024," and later updating it to "between 1/64th and 1/1,024th Native American."
The reactions to Warren's botched "reveal" have ranged from tenderfoot to savage.
Elizabeth Warren has to go back 10 generations to find a non-white person in her family lineage. Warren is extremely, extraordinarily, almost completely white. Way whiter than the average whitey. That's the real headline here.

— Matt Walsh (@MattWalshBlog) October 15, 2018
Who self-identifies with a group making up 1/64th or less of their genetic ancestry?@elizabethforma, that's who.

That's weird.#ElizabethWarrensSoWhite #ElizabethWarren

Makes as much sense as me identifying as Viking or Latino (I've got more of those than she has Nat Am).

— Mañ-Made Material™ (@ManMadeMaterial) October 15, 2018
Elizabeth Warren edition of South Park. pic.twitter.com/fpjEkgffBZ

— Rita Panahi (@RitaPanahi) October 15, 2018
You will now forever be 1/1024 Pocahontas pic.twitter.com/7DUOTtiroR

— Yellow Red Sparks (@yellowredsparks) October 15, 2018
MSNBC's Craig Melvin on Elizabeth Warren being 1/1,024 Native American: "I think I might be as Native American as she is." pic.twitter.com/uQCWuggQpL

— Ryan Saavedra (@RealSaavedra) October 15, 2018
The funny thing is, Warren thought this was a good play for her.

White people can be so out of touch.

— Patrick Howley (@howleyreports) October 15, 2018
Hilariously, Warren's only Native American ancestor may have actually lived at the time of Pocahontas.

— Ben Shapiro (@benshapiro) October 15, 2018
1/1024@elizabethforma's percentage of Native American heritage is about the same as her chances of ever being POTUS.

— John Cardillo (@johncardillo) October 15, 2018
So for all you who are clearly idiots, 1/1,024th means you're super dooper white. It means anyone with that % claiming to be Native American is a fraud. . . Reminds me of Da Nang Dick aka Senator Vietnevermind aka @SenBlumenthal. Cute stories that have nothing to do with facts.

— Ned Ryun (@nedryun) October 15, 2018
And a Benny Johnson superthread…
The Daily Caller's Benny Johnson laid out the Elizabeth Warren fraud in a 10-part tweetstorm which, in a rational world, would end the debate.
Every Time Elizabeth Warren Has Lied About Her Native American Heritage:

(Thread)

1. Elizabeth Warren self-identified as a "Native American" in the The Association of American Law Schools Directory of law professors in every edition printed between 1986 -1995.

— Benny (@bennyjohnson) October 15, 2018
2. After becoming a professor at the University of Pennsylvania, Warren demanded the University change her faculty listed ethnicity from "white" to "Native American."

— Benny (@bennyjohnson) October 15, 2018
3. Warren was identified by Harvard Law as a "woman of color." Harvard promoted Warren's hire as expanding their campus diversity by hiring a woman with "minority background" onto their faculty.

— Benny (@bennyjohnson) October 15, 2018
4. Warren claimed that her mother and father had to elope due to her mom's obvious Indian heritage and the white bigotry of her father's family. Here is a photo of Warren's mom: pic.twitter.com/B2zSHdNkXL

— Benny (@bennyjohnson) October 15, 2018
Here is video of Warren telling this story: "My mom and dad were very much in love and they wanted to get married. My father's parents said 'Absolutely not because she's part Cherokee and Delaware.' After fighting it they eloped." pic.twitter.com/3lGCf9xGmY

— Benny (@bennyjohnson) October 15, 2018
5. Warren submitted multiple recipes for the Indian cookbook "Pow Wow Chow" and signed her name, "Elizabeth Warren – Cherokee" pic.twitter.com/Fr3ECGsUa2

— Benny (@bennyjohnson) October 15, 2018
6. Warren used offensive, racially charged language to defend her claims of Native American heritage, declaring that her family had "high cheekbones" like "all the Indians do."

Here is video of that moment: pic.twitter.com/DzU60yowHe

— Benny (@bennyjohnson) October 15, 2018
7. Warren has now claimed that she *may* have 1/1024th Indian DNA. This is equally problematic since DNA science proves that the average white American has .18% Indian DNA, far more that Warren's .098% (lowest estimate according to study) https://t.co/tNwZcdIDeS

— Benny (@bennyjohnson) October 15, 2018
8. Multiple members of Warren's direct family have disputed her claims of a "proud Native American heritage." They deny the Senator's Indian heritage stories fervently:https://t.co/iF53pWxymP

— Benny (@bennyjohnson) October 15, 2018
9. Warren's DNA report did not measure actual Native American DNA. The report actually measured Colombian, Mexican and Peruvian DNA. Of which Warren *may* have a tiny, tiny fraction – possibly. pic.twitter.com/SK7LExbawl

— Benny (@bennyjohnson) October 15, 2018
10. It is very difficult to argue that Warren did not commit racial fraud. She used the advantages in the system to advance her career with no evidence (to this day) that she is actually Native American. Democrats defending her behavior on this point is dubious – at best.

— Benny (@bennyjohnson) October 15, 2018
* end thread*

— Benny (@bennyjohnson) October 15, 2018