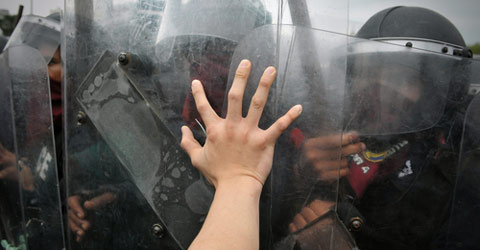 In the lead up to the Presidential election we've seen pockets of riotous behavior across America. Whether supporting Trump, Sanders, Hillary or Cruz, average Americans appear to be ready to go to war with their government or with each other. This sentiment, coupled with continued economic degradation and a general feeling of a populace that has for decades been marginalized by the political machine in the United States, is showing all the signs of serious civil unrest on the horizon.
In the following interview with Infowars.com special forces commando Tim Kennedy weighs in, describing the current situation as a trench having been dug and filled with accelerants just waiting to be ignited.
Kennedy is a continuity of government expert, which means he's well versed in not only how the powder keg of civil unrest could potentially explode, but what The-Powers-That-Be will do once it does.
For civil unrest to happen you have to have a bunch of little things that set up for the perfect situation. You have to have a reason.

People are so emotionally involved in this Presidential election right now… and finally for the first time realizing there is something wrong with our country… the eyes are open… we know that something's not right.

Even though we have a President saying 'I'm trying to break down borders' we've never had so much hate between different racial segments… what's even more scary is that we know all of these things individually  are setting up the perfect opportunity for serious civil unrest… 

Now that we're moving into summer… we're moving into the Presidential election… we're sending troops into Iraq… we're looking at groups and segments of people who are supporting specific Presidential nominees…

We have a perfect conducive environment for some serious problems… you think riots in Missouri were bad? Just wait until July… wait until August. 

The trench has been dug and it is full of accelerants… everything is right for things to go very wrong.
Kennedy warns that once civil unrest happens on a nationwide scale, you'd better have taken steps to prepare, because just as we saw in Venezuela, Argentina and elsewhere during such tense periods, essential goods disappear from the shelves almost overnight.
And while such events are often dismissed by Americans as improbable, your concerns over the possibility are not without merit.
As an individual you have to get ready.

Don't care if people think that you're crazy… don't think that you're being a fanatic… that you're being a prepper.

I'm only responsible for my family… My family is going to have food… My family is going to have water… We are going to be safe.

And if you think I'm crazy because I want to make sure my family is protected, fine, that's the way it is.

But as an individual you need to look and research about ways to prepare in whatever city you live in.
In short, should widespread civil unrest, whether this summer or at any point in the future, spread across America and be followed by military and law enforcement intervention, you absolutely cannot depend on the government to be there to provide any meaningful assistance.
That means you need to take steps to prepare your own personal continuity plan.
In her best-selling book The Prepper's Blueprint, Tess Pennington succinctly summarizes the reality of the situation:
Disasters do not discriminate. In the aftermath of the event, you will be on your own, left to provide for your family with the supplies and knowledge you have accrued. If you are prepared with the mental and spiritual foundation to overcome disaster, then you will transition into survival mode more quickly.

…When you plan for extended disasters you must take into account that you could be on you own for up to a month or longer. To carry you through this unpredictable time, you must add additional layers to your preparedness foundation so that it incorporates essential knowledge and additional supplies.

Excerpted from The Prepper's Blueprint: The Step-By-Step Guide To Survive Any Disaster
By preparing for the possibility of a widespread civil unrest scenario you'd also be readying yourself for other potentially deadly events, thus focusing on core supplies and knowledge is key.
The above supply list includes some of the very basics one should have in their preparedness supplies. For extensive supply lists and scores of disaster scenarios we encourage you to read Tess Pennington's highly acclaimed The Prepper's Blueprint.
Whether it's civil unrest this summer or as the result of an economic collapse in the future, or any number of other disaster scenarios, having at least a 30 day supply of essential necessities will mean the difference between life and death. At the very least, they will help make a very uncomfortable situation a bit more bearable.
As Tim Kennedy has highlighted, the trenches have been dug and the accelerant has been poured.
All we're waiting for now is the spark.
Related:
Survive Any Disaster – A Step By Step Guide
The Prepper's Market – Emergency Preparedness Supplies
Free Web Series: 52 Weeks To Preparedness