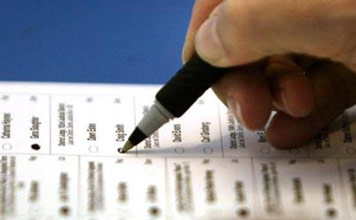 The future is what they filter.
Silicon Valley has taken over, though ultimate control remains in the hands of bankers.
We have reached the point where Facebook is so powerful, experts admit it could rig an election just by geofiltering where voting reminders appear. Google search results can have a similar diminishing effect on democracy. These new elite have control of the information that our society is made up of.
You will vote for those whom they have selected, and you will read views which have been promoted. As the London Telegraph reports:
[Facebook shrugged off] controversy after being accused of deliberately suppressing conservative views in its trending topics section. "At the end of the day, there's nothing restraining Zuck's vision. One of the jokes we had was that Facebook could throw an election by showing reminders to go vote in certain districts but not others. That's the level of control it has. It's scary."
And if those results aren't credible, or popular, there could quickly be riots spreading across the country – for instance, both if Donald Trump wins the election, or if he has been cheated out of winning. Regardless of the politics involved, Facebook or Google could swing an election by perhaps 20 points.
That's a tremendous amount of power that has scarcely been considered, and hardly accounted for. Their is little reason to trust the electoral process, as well as many other institutional processes, when corporate money and social programmers are involved.
The innocent image of quaint kids in hoodies making big money distracts from the underlying quest for power.
Beneath the Frat House-esque atmosphere, the company's elite are painted as sociopaths in hoodies, with an internal security division called 'The Sec' monitoring staff members' movements. Forget the dog-eat-dog capitalism of Wall Street – these guys make Gordon Gekko look like Ghandi.

"Wall Street is the open ruthlessness of gladiatorial combat," says Martínez. "You're tossed in there, a lot of blood flows and one man triumphs. In Silicon Valley, it's more like this mafioso drama with a lot of aggressive behaviour and back-room dealing.
Their data collection and network pooling is worth a great deal to those engaged in spying, cyber warfare and intelligence work.
With the foreboding control that a handful of companies have over the Internet, many of Silicon Valley's wealthy entrepreneurs are strategically building up off grid compounds to escape from the chaotic hoards that are being stirred up, and take refuge in privacy and retreat.
Publicly, flashing cash is against the Facebook ethos – Zuckerberg famously wears a grey t-shirt to work every day, claiming, "I feel like I'm not doing my job if I spend any of my energy on things that are silly or frivolous". Newly minted tech-millennials, therefore, are forced to set up private groups (on Facebook, of course), where they can discuss the pressing needs of the super rich, such as where to buy private aviation, the best five-star resorts in Maui and "how to buy a bunch of land then put it in a trust so people don't realise you're amassing a compound and you can maintain your privacy".
As SHTF has previously reported, the elite are concerned about growing inequality and the conditions of social unrest. Though banksters have deliberately stirred things up, the individuals working for that system certainly don't want to be caught up in that chaos.
They want to survive – in style and comfort.
https://www.shtfplan.com/aftermath/landing-strips-farms-and-hideaways-secret-escapes-of-the-elite-the-rich-are-worried-and-they-should-be_02202015
That is precisely where they are using private jets to escape to private bunkers and hideaway farms:
"I know hedge fund managers all over the world who are buying airstrips and farms in places like New Zealand because they think they need a getaway," he said.

He added that the global economic situation may soon become intolerable for many, including people in the richest nations, because inequality appears steadily on the rise.

Wallis said, "Getaway cars the airstrips in New Zealand and all that sort of thing, so basically a way to get off. If they can get off, onto another planet, some of them would."
Hopefully you've got a place to hideaway, too. Because at this rate, chaos and unrest can't be far behind.
Read more:
Landing Strips, Farms and Hideaways: Secret Escapes of the Elite: "The Rich Are Worried and They Should Be"
What Hell Is Coming? Even Obama Is Warning Americans 'To Prepare For Disaster'