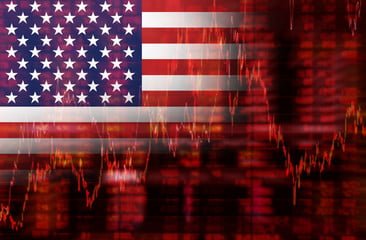 Economist Gary Shilling, who is known for predicting bubbles like the housing debacle of 2008, says the United States is already in a recession.  Knowing just how financially strapped the average American has become is prompting some to say the recession is already upon us, regardless of what the stock market shows.
Shilling says this current recession a big worry for investors in an interview with digital financial media group Real Vision, according to a report by Market Watch.  "I think we're probably already in a recession, but I think [it will] probably be a run of the mill affair, which means real GDP would decline 1.5% to 2%, not to 3.5% to 4%, you had in the very serious [past] recessions," said Shilling, who is the president and money manager  of A. Gary Shilling & Co. He claims to have predicted the global inventory glut that led to the 1973 to 1975 U.S. downturn.
Shilling says some of the biggest potential drivers for an economic pullback (heavy amounts of corporate debt, a strong dollar that's pinching emerging markets, and trade wars) are fairly small potatoes versus the problems of the past. However, he is predicting that the 10-year Treasury yield will drop to 1% if that type of recession is borne out along with lower inflation.
The yield on the 30-year Treasury bond would drop to 2%. "Actually, if that happens on a 30-year coupon bond, you make about 20% on your money," he said. Shilling is referring to 30-year zero coupon Treasurys, reported Market Watch. Investors can buy these type of bonds at a discount, but redeem them at face value in the future, allowing for a profit. They work well in low-interest rate environments but are less good in rising ones. Hence the risk.
Whether or not the economy is already in a recession can be up for debate.  What isn't debatable is that things will still get worse.  Americans are living their financial lives right on the edge and any hiccup could send them in a downward spiral that's completely out of control.
Our concern here, at SHTFPlan, are the everyday people, not the bigwig investors and billionaires. A recession will hurt those on the bottom disproportionately more than those on the top.  If you haven't gotten your own finances under control, now is the time. Consider subscribing to James Davis' wealth emails by going to Future Money Trends.  Davis updates readers with ideas on how to maintain and grow your personal wealth even during economic disasters.
Inflation is Theft (Freeman Classics)