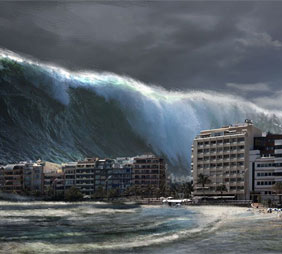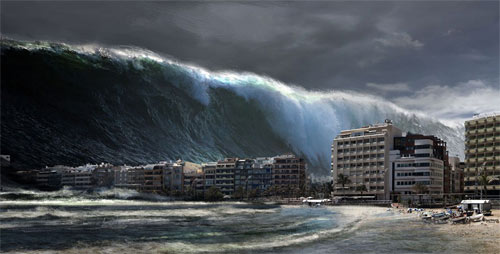 With corporate earnings for the first quarter of 2016 set to be the worst since the Great Recession, Societe Generale economist Albert Edwards is warning that the United States is about to be hit with a tidal wave.
A tidal wave is coming to the US economy, according to Albert Edwards, and when it crashes it's going to throw the economy into recession.

…the profit recession facing American corporations is going to lead to a collapse in corporate credit.

"Despite risk assets enjoying a few weeks in the sun our fail-safe recession indicator has stopped flashing amber and turned to red"

…

He continued:

Whole economy profits never normally fall this deeply without a recession unfolding. And with the US corporate sector up to its eyes in debt, the one asset class to be avoided — even more so than the ridiculously overvalued equity market — is US corporate debt. The economy will surely be swept away by a tidal wave of corporate default.
Giving us further confirmation that something is amiss we need look no further than the brain trust known as our Federal Reserve. Earlier this week current Fed Chair Janet Yellen joined her predecessors Ben Bernanke, Alan Greenspan and Paul Volcker, all of whom argued that the U.S. economy is not only not in a bubble, but is on solid footing and a good trajectory.
Via Zero Hedge:
So, I think we're making progress there as well, and this is an economy on a solid course, um, not a bubble economy. Um, we tried carefully to look at evidence of potential financial instability that might be brewing and some of the hallmarks of that, clearly overvalued asset prices, high leverage, rising leverage, and rapid credit growth. We certainly don't see those imbalances. And so although interest rates are low, and that is something that could encourage reach for yield behavior, I wouldn't describe this as a bubble economy."
Keeping these latest comments within the context of mid-2007 when Chairman Ben Bernanke vehemently argued that the U.S. economy was not headed into recession and that the crisis was contained and would not spread to other sectors, we'd say that there is no better indicator for what comes next.
At this juncture . . . the impact on the broader economy and financial markets of the problems in the subprime markets seems likely to be contained.

Ben Bernanke, Federal Reserve Chairman
March 28, 2007
Once again our best and brightest – the very people who caused the problems to begin with – are telling us that everything is fine and there is no bubble.
The takeaway?
You'd better be prepared and have an evacuation route because a Tsunami is inbound.
Also Read:
How to Prepare For Any Disaster
Intelligence Insider: How To Protect Your Assets From Critical Infrastructure Failure: "Power Grid, Banking System, Cyber Financial Warfare"
Government Is "Simulating the Collapse of Our Financial System, the Collapse of Our Society and the Potential for Widespread Violence"