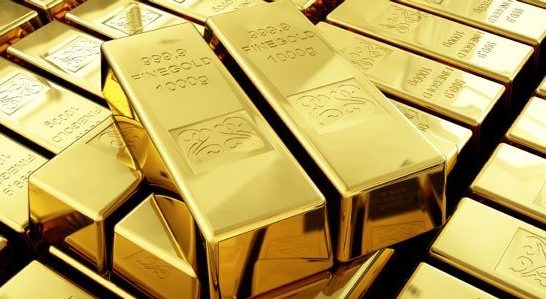 Global economic growth concerns and a weak United States dollar have pushed the price of gold to a nearly two-week high.  Gold futures have logged a second straight finish above $1,300.
After closing up 0.5% on Monday, gold settled at $1,308.30 an ounce. According to Market Watch, moves for metals came as the U.S. dollar, as measured by the ICE U.S. Dollar Index edged down to 97.005. It's down 0.4% this week to date and a weaker buck can boost the appeal for bullion, which is priced in the currency. "A modest slowdown of the greenback in conjunction with some uncertainty in the stock market were enough to push bullion prices up, confirming firm investor appetite for gold," wrote Carlo Alberto De Casa, chief analyst at ActivTrades.
Global growth concerns have also cemented an interest in gold, said Alfonso Esparza, senior market analyst at Oanda. After the International Monetary Fund cut its global economic forecast for the third time in six months, gold is on the predictable rise. Investors could have also been reacting to president Donald Trump's announcement that he wanted additional tariffs.  Trump's "threats to put new tariffs on European goods seemed to dampen risk appetites, pressur[ing] the dollar and support[ing] gold overnight," said analysts at Zaner Metals.
George Gero, the managing director with RBC Wealth Management, said that he is not surprised that gold prices are higher as growing threats to the global economy create a positive environment for the yellow metal. "Gold is not just a hedge against inflation but it's a hedge against economic dislocation," he said. "Gold is reacting to the growing uncertainty as [President Donald] Trump opens up a second front in the trade war."
Trump threatened tariffs on $11 billion worth of goods, using more useless trade war rhetoric, according to Kitco. "There is a lot of uncertainty because of these tariff tiffs and because of that gold has less to fear from the U.S. dollar," Gero said.
"The market also may have drawn support from reports indicating that ongoing strike action in South Africa is posing a more serious threat to gold production than previously thought," they added in a Tuesday note. Sibanye-Stillwater Ltd.'s first quarter South African gold production is expected to be about 104,000 ounces, "which is only about 36% of year-ago levels and is roughly 90% of what was expected under strike conditions," the analysts said.