This article was originally published by Tyler Durden at ZeroHedge.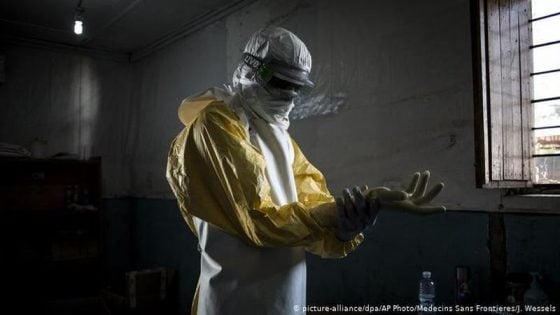 The Congolese health ministry announced that a pastor infected with Ebola took a bus to the city of Goma late Sunday, the first time the virus has spread to the major travel hub and home to more than two million people.
The man, traveling from Butembo, was quickly identified and transported to an Ebola treatment center, while authorities say that they have tracked down the other 18 passengers aboard the bus and would vaccinate them on Monday, according to the Washington Post.
"Because of the speed with which the patient was identified and isolated, and the identification of all the other bus passengers coming from Butembo, the risk of it spreading in the rest of the city of Goma is small," the ministry said in a statement.
The official statement was echoed by WHO director-general Dr. Tedros Adhanom Ghebreyesus, who said "Goma is a city of two million people, near the border with Rwanda, and is a gateway to the region and the world," adding "We are confident in the measures we are put in place and hope that we will see no further transmission of Ebola in Goma."
"Nevertheless, we cannot be too careful."
he outbreak has killed 1,665 people as of Monday, while nearly 700 have survived the virus, which causes high fevers and internal bleeding. Days with dozens of new cases are common, despite a massive public health intervention across the affected area.

Health workers worry that some cases — if not whole transmission chains — are in places that are inaccessible because of poor infrastructure or insecurity, making the extent of the outbreak hard to fully measure.

The area where the outbreak is taking place is also home to one of Congo's most protracted and violent conflicts — a patchwork of ethnic militias, vigilantes and government-aligned forces.

Fighting has at times targeted the Ebola response, hampering it and leading to spurts of new cases. Near the outbreak's epicenter in the city of Beni on Monday, two health workers were killed by unknown assailants. Tedros Ghebreyesus, the WHO director general, said there have been almost 200 attacks on health workers, killing seven, since January. –Washington Post
As the Post points out, the virus is now present in two cities with populations exceeding one million people – Butembo being the other. The current outbreak is the second-worst on record, after the 2013-2016 epidemic which killed 11,300 in West Africa.
Ebola. Even the name of the virus conjures up mental images of a gruesome, agonizing, bloody death. Anyone who has scanned the news headlines lately has, at the very least, an inkling that a horrible disease is on the loose. It's anyone's best guess how soon this becomes a pandemic on American soil. While the Center for Disease Control and the World Health Organization have both expressed serious concerns that we are on the brink of disaster, border enforcement agencies seem blithely unconcerned. It's really up to you to protect your family. This is a collection of some of the best information in the preparedness community to help keep you and your family safe throughout this potential pandemic. Checklists are provided at the end of the book to help you gather the necessary supplies quickly and efficiently. –Ebola Survival Handbook by Daisy Luther

Ebola Survival Handbook: A Collection of Tips, Strategies, and Supply Lists From Some of the World's Best Preparedness Professionals