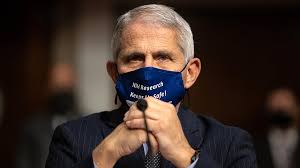 Dr. Anthony Fauci and other members of the ruling class would like nothing more than to see the entire world population wearing ritualistic shame muzzles for the remainder of their lives.  In fact, Fauci is doubling down now, saying the fully "vaccinated" still need to wear face masks.
Fauci is the director of the National Institute of Allergy and Infectious Diseases at the National Institutes of Health, and Joe Biden's chief medical tyrant advisor. He has changed his mind and flip-flopped so many times, in the name of "science" of course, that anyone with two brain cells to rub together doesn't trust this guy in any way.
Fauci is also calling the new propagandized fear-mongering "delta variant" a "great threat" to those who haven't been "vaccinated." He also has told the public what to expect: two different worlds for those who got the shot and those who have chosen not to. We are returning to the days of segregation, and this time, it's not about race it's about personal choices that don't affect anyone else; especially if they continue to claimed the "vaccines" are "effective."
Fauci is "very concerned about" people who use their own brains and come to the conclusion that they don't need an experimental gene therapy shot, he told CNN's Don Lemon on Tuesday night. With the more contagious Delta variant, some officials are issuing new mask guidance. "When you have such a low level of vaccination superimposed upon a variant that has a high degree of efficiency of spread, what you are going to see among under-vaccinated regions, be that states, cities or counties, you're going to see these individual types of blips," he said. "It's almost like it's going to be two Americas."
He is also continuing to falsely label the experimental gene therapy shots as "vaccines" as most of the media is doing. "One of the issues that's very, very clear is that the vaccines that are used in this country, fundamentally, the mRNA vaccines, with few exceptions, are really doing quite well in protecting against any symptomatic disease, and certainly highly effective in preventing against severe disease that would lead to hospitalization or deaths," Fauci said. And he continues to claim that it's the unvaccinated who are at a risk for the "delta variant," which looks to be about as real as the original COVID-19 virus.
"It's the concern about unvaccinated people. So, if ever there was what I would say a clarion call to people to please get vaccinated, you can protect yourself against a virus that has a better capability of spreading from person to person and that could make you more seriously ill," Fauci said according to a report by PBS.
"In certain countries, the Delta variant has become really quite dominant. It has pushed aside the other variants that are there. This will happen in our country, the United States, in those areas of unvaccinated people."

"This is entirely avoidable, entirely preventable. If you are vaccinated, you diminish dramatically your risk of getting infected and even more dramatically your risk of getting seriously ill. If you are not vaccinated, you are at considerable risk," Fauci warned. –CNN
Wait, so if the "vaccine" is "effective" and the vaccinated aren't getting infected, how can they spread anything to the unvaccinated? If the unvaccinated do get the delta variant, and the "vaccine" is "effective" why are the "vaccinated" concerned?  None of this makes sense. They expect us to believe it all though and line up for this shot like a  herd of sheep.
The definition of "effective" is: successful in producing a desired or intended result.
So, based on the fact that we know these shots don't work, what's the "desired or intended result?" Perhaps they are effective…if the end result is totalitarian control and compliance.
Keep asking the questions and using critical thinking. We are going to bombarded with propaganda about this delta variant until they try to lock us down again or until people open their eyes to the reality of our situation.