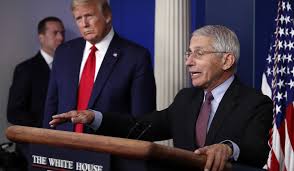 Dr. Anthony Fauci is admitting that the chances of any vaccine bein effective against the scamdemic "aren't great." He wants Americans to be "mindful" about the vaccine's capabilities.
These psychopaths keep moving the goalposts. Not only will a vaccine NOT allow people to return to their normal lives as slaves with a slightly longer leash, but we aren't supposed to expect it'll even work.  It's fascinating the governments of this world have any followers left at this point.
Fauci continues to say that a vaccine will be ready this winter, the end of 2020, or the beginning of 2021. But it still won't be over.
They Moved The Goalposts…AGAIN!: "It's Not Over When The Vaccine Arrives"
Also, don't forget that we were already promised a "dark winter" by the ruling class. In addition, power-hungry political puppets are declaring that the government has the power to "plunge a needle in your arm" if you resist this rushed, ineffective, diabolical vaccine.
"The chances of it being 98% are not great, which means you must never abandon the public-health approach," Fauci told a recent live-streamed Q&A hosted by Brown University. "You've got to think of a vaccine as a tool to be able to get a pandemic to no longer be a pandemic, but to be something that's well-controlled."
"What I'm shooting for is that, with a vaccine and good public-health measures, we can bring it down to somewhere between really good control and elimination," he told Abdullah Shihipar, a public-health research associate at Brown in the interview. "So that's what a vaccine is going to do, but it's not going to do that alone."  Anyone resting their hopes on a vaccine that will afford them any semblance of normalcy is being duped.
Fauci has been a fraud from day one:
Additionally, Fauci advocates face masks, social distancing and avoiding bars and indoor spaces with crowds, according to a report by Market Watch. "If we do those things — and I'm going to repeat it until I'm exhausted — those things work," he said on Friday's live stream. "When you have something that needs everybody pulling at the same time if you have one weak link in there that doesn't do it, it doesn't allow you to get to the end game."
What's the end game? It's the "new normal." Your life as a slave controlled by the New World Order cult. The only way out is to wake up to what's going on. If you do, we all have a better chance of getting through this and recreating a new world of our own.  One of freedom and prosperity without the central bankers, politicians, and elitists hellbent on enslavement.