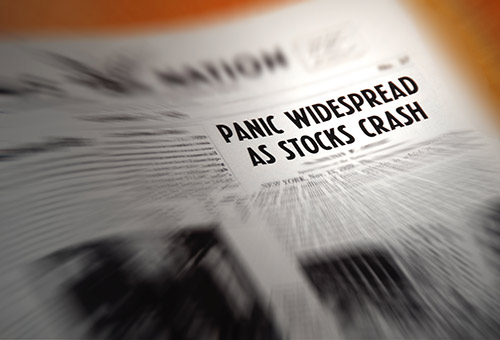 Britain's decision to withdraw from the European Union has not only rocked the whole of the elite global order, but average citizens the world over appear to be rapidly dumping stocks.
Though equities appear to be rebounding somewhat today, markets in Europe, Asia and the Americas were heavily in the red over the preceding two trading days, which is perhaps why one of the world's largest investment companies, with some $3 trillion in global assets, just issued the following email to retail investment account holders in an effort to avoid panic selling.
Now that U.K. citizens have held their referendum and voted that the United Kingdom should leave the European Union, what's going to happen next?

It's likely that this vote will have a global economic impact. But because it may take time before the full impact is felt, there could be continued uncertainty in the financial markets. And that uncertainty could lead to volatility.

Focusing on what you can control

Even during times of global uncertainty, Vanguard believes in the merits of a well-diversified portfolio that includes both domestic and international assets. Making changes to your plan based on market movements could derail your efforts to reach your goals.

Although it's difficult during times of market volatility, we recommend you stay focused on the things you can control: creating clear goals, developing an appropriate asset allocation, minimizing investing costs, and maintaining a long-term perspective.
Screen print: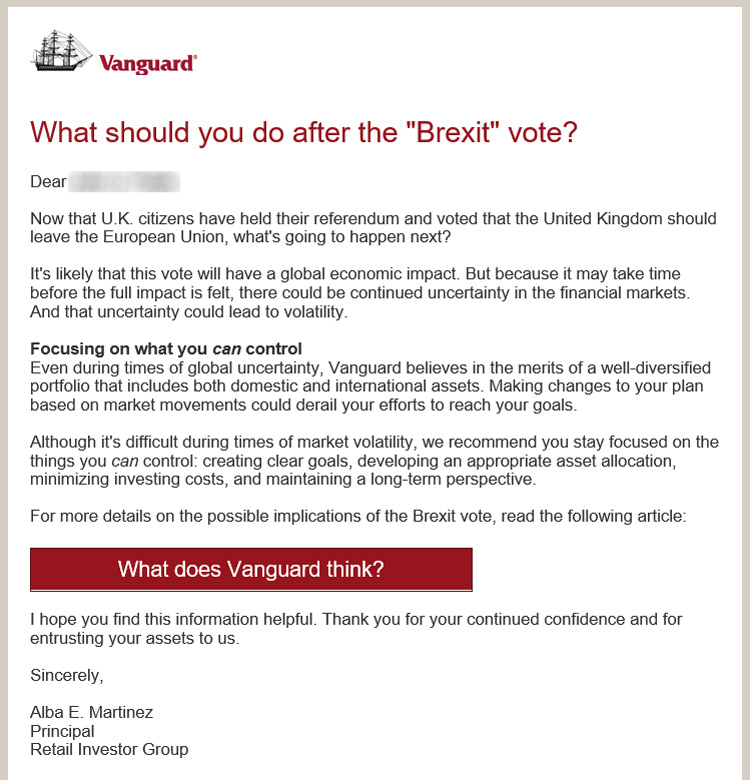 The email links to a brief overview of what Vanguard thinks about all this.
Once the results were in, global markets and the British pound traded sharply lower. On the face of it, these gyrations might tempt investors to make dramatic shifts in their portfolios, especially moving away from assets perceived as riskier.

Of course, Vanguard discourages market-timing, which is so often counterproductive. The bottom line is that avoiding or reducing specific investments might not achieve the desired result. Also, much of the effects of the vote are now already priced into asset values.
In short, don't panic. Brexit and its economic fall out have probably already been priced in.
Except that just in the last 48 hours some of the world's most well respected economists and contrarian investors say that not only is a crisis imminent, but it's going to be a whole lot worse than 2008.
In the off chance that Brexit is just a catalyst for something significantly more serious, perhaps now is as good a time as any to prepare for the unexpected. Because as it relates to financial markets, it's said that he who panics first often panics best.
Related:
How To Survive Economic Collapse And Other Disasters: A Step-By-Step Guide
Doug Casey Warns Of Crisis This Year: "We're Going Back Into The Hurricane… Gold Will Go Higher Than Most People Can Imagine"
We Just Witnessed the Greatest One Day Global Stock Market Loss in World History
A Mass Movement Has Begun: How To Protect Yourself Before "Italeave… Czech Out… Departugal… Finnished…"
Great American Slowdown in Buying, Selling and Shipping: "These Numbers Are Absolutely Staggering"