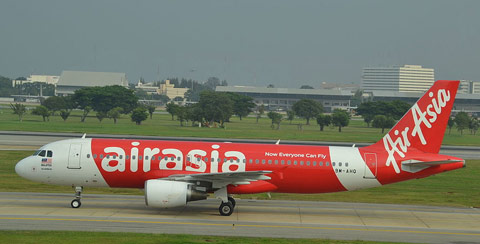 A mysterious user of the Chinese social media network Weibo apparently predicted the disappearance on AirAsia Flight QZ8501 almost two weeks before the plane went missing, urgently warning Chinese nationals not to use the airliner in dozens of posts.
The report, carried by the Epoch Times, relates the story of how the individual "repeatedly warned people away from Malaysia Airlines (and) AirAsia."
"Do not become another victim of MH370," warned the individual in a December 15 post, adding that AirAsia was about to be targeted by "powerful" forces which he referred to as the "black hand".
"This is a life-saving message to Europe or the US tour, do not take AirAsia (or) Malaysia Airlines airliner," states the translated version of one of the posts.
The user went on to assert that the "black hand" was out to "ruin AirAsia," Malaysia's second largest airline company. Malaysian Airlines Flight 370 went missing in March earlier this year, while MH17 was shot down over Ukraine in July.
The individual repeated his warning in subsequent posts made on the 16th and 17th of December, writing, "This is a major event in human life, we have to pay attention," adding, "far from AirAsia, Malaysia Airlines away, cherish life."
Speculation on the Reddit forum by Chinese users suggests that the posts may have originally been made on the 15th but then later edited with the prediction about AirAsia added after the disappearance of Flight QZ8501.
The user made a total of 39 posts on the subject which were viewed by 650,000 people. After flight QZ8501 disappeared, users returned to the threads to express amazement at the individual's prediction, speculating that he was an "insider" of some kind or connected to the Malaysian or Chinese government.
Investigators are still hunting for the wreckage of the AirAsia flight, which had 162 passengers on board when it disappeared during a flight from Surabaya to Singapore, with the head of Indonesia's search-and-rescue team asserting that the plane is likely to be at the bottom of the sea.
No Chinese nationals were on Flight QZ8501 when it went missing.
A separate report carried by Russian news outlet Sputnik claims that "a relative of a missing passenger received a text message from an unknown sender, stating that the plane made an emergency landing and all passengers were alive," although this was never subsequently confirmed.
Unidentified objects discovered in the Java Sea by an Australian AP-3C Orion patrol aircraft are not likely to be wreckage from the AirAsia Flight.
Facebook @ https://www.facebook.com/paul.j.watson.71
FOLLOW Paul Joseph Watson @ https://twitter.com/PrisonPlanet
*********************
Paul Joseph Watson is the editor at large of Infowars.com and Prison Planet.com.