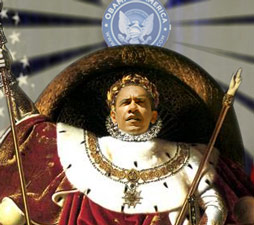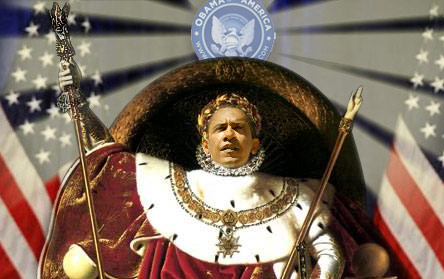 Every group (and especially an empire) needs its good or evil spokesperson, leader, or figurehead to focus upon: the embodiment of the particular group or nation.  The size of the group is irrelevant: there simply must be a leader that exemplifies the characteristics of the group.  History is replete with great leaders, however, benevolence and goodness are not necessarily a leader's qualities.  For every good leader, it seems there are a plethora of those who are self-serving, power-hungry despots whose aims are either not for the people or (the other end of the spectrum) against the people.
To be sure, these bad leaders are usually good actors: able to dupe the people into believing that they are the ones who are fit to lead.  In this manner, the leader chosen is a reflection of the people and needs only feed upon the wants and desires in the populace and then manipulate those desires to his advantage.  We continue with the last segment but this time in micro perspective: a comparison of the Emperor Nero of Ancient Rome with the "would-be Emperor" and dictator of America, President Barack Husein Obama II.
Behind every evil leader are bad people who are aiding the despot's rise to power.  The Emperor Nero (born December 15, in the year 37 A.D.) was aided to take the throne by his mother, Agrippina, who proclaimed him worthy of it and enabling it in the year 54 A.D., when he was only 16 years old.  Agrippina had been married to the Emperor Claudius (her third husband), and probably poisoned him.
With Barack Obama, we saw that he was aided and mentored by convicted terrorists of the Weather Underground, Bill Ayers and Bernardine Dohrn.  Nero (in his youth) was taught by the stoic philosopher and essayist Seneca, well-known in his time for espousing profound words of a stoic lifestyle while not living up to those words in his personal life.  Obama's mentors in his youth were the instructors in the Indonesian madrassa, teaching him his fundamentals in the Muslim religion.  Later he became an "acolyte" of the Reverend Jeremiah Wright.  Check out this quote:
"To avoid being mistaken for a sellout, I chose my friends carefully. The more politically active black students. The foreign students. The Chicanos. The Marxist professors and structural feminists and punk-rock performance poets." (Barack Obama)
Regarding narcissism, both Nero and Obama are running neck-and-neck for the top dog position.  Nero commissioned a bronze statue of himself almost the height of the Statue of Liberty, portraying him as a deified sun-god with a ship's keel on a globe, symbolizing his power over water and earth.  No such statue exists as yet for Obama.  Nero also had a tremendous palace built for himself called the Domus Aurea, the "House of Gold," literally, that actually was so immense that it took up 1/3 of the city over hundreds of acres.  This monument to his vanity was, coincidentally, built on the remains of a burned-up section resulting from the Great Fire of Rome in the year 64, that had a high probability of being arson directed by Nero's order.
"Change will not come if we wait for some other person or some other time.  We are the ones we've been waiting for.  We are the change that we seek."  (Barack Obama)
Nero's character (studied by ancient and modern essayists) was not much different, as can be seen with a quote from one of the modern sources:
"He wanted to be close to the people – but as their god, not as their friend." (Alessandro Viscogliosi)
Eccentricities with Obama are his innumerable rounds of golf played, his endless trips (to Africa, the Far East, and Martha's Vineyard) at taxpayer expense, and his real-estate purchases that rival Nero's.  Obama owns his home from Chicago, IL, valued at $1.65 million and 6,199 square feet.  Not bad for a "grass-roots community organizer!"  Oh, but in addition to that is his "cabin" in Rancho Mirage, CA, in the same gated community of Thunderbird Heights that once housed Frank Sinatra and Bob Hope.  The tiny cabin is 8,232 square feet, and it set Barack back by $4.25 million.
Obama and Nero each bypassed the Senates of their respective nations to accomplish their aims.  Nero, in order to tax the rich, used a ploy to bring charges against the wealthy in order to secure their wealth and property.  Need we list all of the things Obama has done in this regard, from Federal land grabs, water and mineral rights grabs (see my article on the CKST water compact in Montana), EPA restrictions, and Obamacare, the granddaddy of them all that will allow either Federal or State confiscation of a person's estate if they owe Medicare at the end of their lives.
Nero ordered his first wife to be killed and actually kicked his second wife to death while she was with child.  He also caused the murder of his mother, Agrippina, and his stepbrother, Britannicus.  To coat the icing on the cake, he ordered his teacher, Seneca to kill himself, which he did.
And Obama?  Benghazi.  The CH-47 with Seal Team 6 on board, taken down by an RPG.  The drone strikes on foreign civilians ("collateral damage") and American citizens (due process under the Constitution denied by the NDAA).
The Blue Ribbon has to go to Obama, just for the amount of lives and nations that he affects (and afflicts).  He is certainly a puppet in the hands of the globalists and oligarchs who have specifically tailor made him for their "fundamental transformation" of the U.S. and its eventual absorption into their global domination plans.  Still, looking at both Nero and Obama, we see they possess many of the same qualities: self-aggrandizement, certainty in their own infallibility, masterful deceit of the masses, and inherent beliefs in their own superiorities.  Narcissism unfettered.  Just as in unjust legislation, the problem is twofold: much damage is done when such dictators begin their reign, and it is very hard to remove them from their positions of power once they are thoroughly ensconced.
---
Jeremiah Johnson is the Nom de plume of a retired Green Beret of the United States Army Special Forces (Airborne).  Mr. Johnson is also a Gunsmith, a Certified Master Herbalist, a Montana Master Food Preserver, and a graduate of the U.S. Army's SERE school (Survival Evasion Resistance Escape).  He lives in a cabin in the mountains of Western Montana with his wife and three cats. You can follow Jeremiah's regular writings at SHTFplan.com.
This article may be republished or excerpted with proper attribution to the author and a link to www.SHTFplan.com.
---
Also From Jeremiah Johnson:
Fall Of The American Empire: "They Intend To Collapse the Financial System"
The Republicans Are In On It: Introduced Bill Banning Gun Purchases By People on Watchlists
Collision Course: As Obama Weakens America, The Russians And Chinese Prepare
A Carefully-designed Script: Gun Violence and Obama to the Rescue!
Jeremiah Johnson's Green Beret Guides To Survival