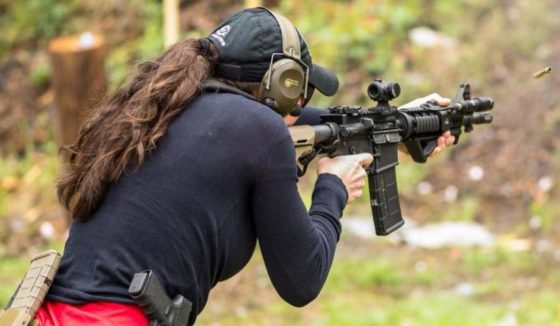 Dick's Sporting Goods pulled all of their guns they determined to be "assault weapons style" from the shelves in the wake of the Parkland Florida school shooting.  Now, they've announced that they will destroy all guns that weren't sold because they took them off the shelves.
"We are in the process of destroying all firearms and accessories that are no longer for sale as a result of our February 28th policy change," a spokesperson from Dick's Sporting Goods told the Pittsburgh Post Gazette. "We are destroying the firearms in accordance with federal guidelines and regulations." Instead of  returning them to the manufacturer, the sports retailer decided to destroy the "assault-style rifles."
Following the 2012 shooting at Sandy Hook Elementary School in Newtown, Connecticut, the retailer had pulled modern sporting rifles from its namesake stores nationwide. When it later opened its specialty Field & Stream stores, it introduced the modern sporting rifles to its product line there. The company did not comment on what it did with the firearms it pulled from its Dick's stores in 2012.
According to Fox News, on February 28, 2018, the Pittsburgh-based company announced it would immediately stop selling assault-style rifles and ban the sale of all guns to anyone under 21 at their Field & Stream stores. It was not immediately clear how many firearms will be destroyed but all of the rifles will be demolished at distribution centers and then delivered to a salvage company to be recycled.
"Thoughts and prayers are not enough," the company said in a statement. "We support and respect the Second Amendment, and we recognize and appreciate that the vast majority of gun owners in this country are responsible, law-abiding citizens. But we have to help solve the problem that's in front of us."  So they intend to destroy guns that good people would never use to harm anyone unless a self-defense situation warranted it.  That's like castrating yourself because your neighbor has too many kids. But no one has ever accused a gun control activist of using logic.
Dick's Sporting Goods is also facing a battle with the gun rights crowd over their controversial decision to deny 18-20 year-olds their Constitutional and basic fundamental human right of self-defense by refusing to sell them guns. The sporting goods store is currently facing two lawsuits due to the self-imposed age limit on purchasing firearms because legally, those who are 18 may purchase guns.