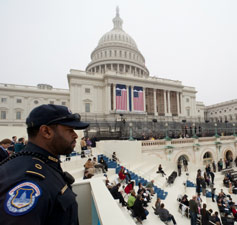 As millions of people flock to D.C. to witness or take part in the inauguration of Donald J. Trump, many thousands of protesters will be denouncing the president-elect, and doing their damnedest to undermine his presidency before it starts.
Several groups have expressed their intention to disrupt the January 20th inauguration, and with newly released video of a group discussing plans to use gas to cancel a pro-Trump celebration, there is no way of knowing how far an angry left and an embittered Washington establishment might go.
via Dahboo77:
Blockades, demonstrations and an event billed as a 'gay dance parade' are being planned in an attempt to sabotage Donald Trump's inauguration, as left-wing protesters look to up the ante in a day of civil disobedience against the US president-elect.

A group known as #DisruptJ20, the most active in the day of disruption, have called for those opposed to Trump to join their "bold mobilization" in Washington, DC, described as an attempt to "shut down the Inauguration ceremonies and any related celebrations."
Will the controversial election and inauguration of Trump provoke the kinds of riots and cultural clashes that we've been warned about?
Are the elites using the next president to break the country down into bitterly divided and easily controlled groups?
This seems possible. Consider what Michael Snyder wrote:
We have seen very large protests in major cities all over America since Donald Trump won the election, but the biggest one of all is being planned for January 20th.  Radical leftists are calling for thousands upon thousands of activists to descend upon Washington D.C. on Inauguration Day, and they are planning to disrupt the inauguration festivities as much as they possibly can.  And if you doubt that the "Not My President" movement can pull this off, you may want to consider that 25,000 protesters showed up in New York City on Saturday on very short notice.  These people are bitter, angry, frustrated and incredibly motivated.  At this point they still have more than two months to organize their forces, and many are expecting that this is going to be the most chaotic Inauguration Day in American history.
#DisruptJ20: Call for a bold mobilization against the inauguration of Donald #Trump on January 20, 2017 pic.twitter.com/EGU65bOtNG

— stimulator (@stimulator) November 11, 2016
Read more:
"Timing Is Extremely Unusual": D.C. National Guard Chief Must Stand Down During Inauguration
Radical Left Group Plot Violence at Trump Inauguration: "Chemical Attack With Butyric Acid"
Paid Protesters "Planning to Cause Chaos In DC" And Block Peaceful Inauguration for Trump
Is This The Coup In America? "U.S. Troops On Russian Border" To Start War Before Inauguration
Insane, Violent Liberals Fantasize About Inauguration Purge: "A Murderous Bloodbath On the 20th"?