David Levy says that the only way to manage the current deflationary crisis in the private sector is to increase deficit spending on the government level.
(Video follows excerpts and commentary)
The dominant influences on deficits here, in Europe and in Japan, are the problems in the economy. Balance sheets got too big in the private sector, debt became too high to be serviced and asset values rose too far to justify. Debt was way to high to be serviced…

We're going through a period of enormous weakness in business investment, household investment…

…What we should do is much more long-term federal investment – infrastructure, education, military hardware, whatever we can think of.
Mr. Levy is certainly correct about the collapse in private sector balance sheets, over-leveraged and unserviceable debt, and weak household investments. The private sector is collapsing because asset values got way to high and formed a bubble. Now that bubble is bursting.
But where did those overvalued assets come from in the first place. Speculation is one reason, and in a free market that happens sometimes. But one of the main reasons is cheap money from, you guessed it, government and Fed policies. When money is given away for free with near zero interest rates, what does Mr. Levy think the end result is going to be? More money chasing fewer goods leads to price inflation, which is what we experienced in the period between 2002 and 2007 in real estate and other assets. Now, that manufactured demand is collapsing, as it should.
How, exactly, is increasing deficit spending in areas like infrastructure, education and the military industrial complex going to create any sort of growth in our economy? Building a bridge, increasing the salary of a teacher or spending millions on a new fighter jet is not going to increase sustainable productive capacity in the United States for the long-term. You can spend trillions until you're blue in the face, but if you are not creating long-term production and employment that the rest of the world needs, then you might as well flush that money down the toilet.
No, Mr. Levy, we should not just spending billions and trillions of dollars on "whatever we can think of."
We're in a period we call a contained depression.

…

It is very clear that the problem is that private balance sheets are contracting. Private debt is contracting so rapidly that even with the huge increase in government debt, the total debt in our economy is shrinking. If the government wasn't out there doing that we would have an even faster collapse and a disaster.

…

Indeed, it is a far far better consequence to have a very large deficit run up for even a decade if it takes that, then to have the kind of collapse like the Great Depression.
Hopefully, this "contained depression", as Mr. Levy calls it, is better contained than the sub-prime crisis, which Mr. Bernanke said would not spread to the rest of the economy and financial markets. We know how that containment went. (Hint: kind of like BP's first, second, third and fourth attempts at plugging the oil gusher.)
Private debt is contracting for a reason : Because the market (general population) has finally caught on and realized that we have bitten off more than we can chew. The pendulum swung to the upside for decades, with asset values exploding. Now the pendulum is swinging to the other end. This is a natural consequence of overspending, taking on too much debt and not being able to service that debt.
While Mr. Levy is right that we would likely have had a rapid, multi-year collapse had the government not injected trillions of dollar in spending on whatever they could think of, we believe that current spending could lead to something much worse than the Great Depression.
If you were to count all of the deficit spending, debt and future obligations (social security, medicaid, Obamacare, etc.) our debt is somewhere north of $100 Trillion. Deficit spending only works until is doesn't. The Keynesian approach to managing this crisis is to continue to spend other peoples' money. What happens when we run out of other peoples' money? What happens when other people no longer want to lend money to the United States at any interest rate?
We'd say that the end result of Mr. Levy's strategy of whatever-you-can-think-of-spending is that the box in which the depression is currently contained will blow open something like this: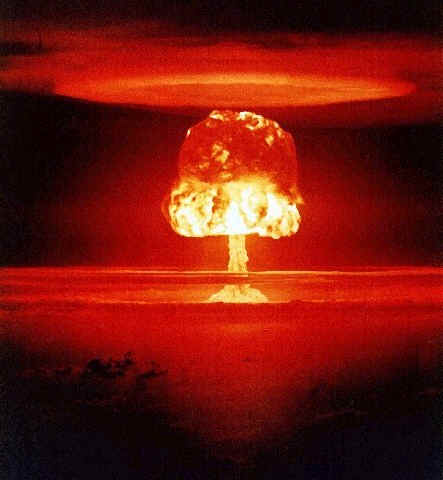 Watch David Levy on Yahoo Tech Ticker: