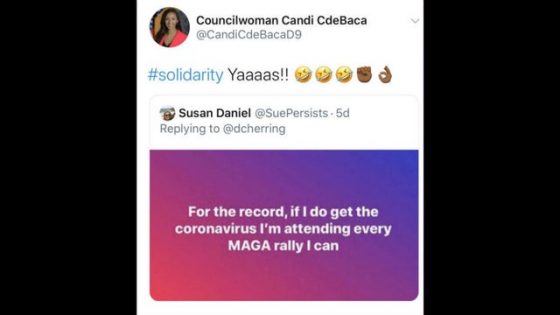 A city councilwoman, who is also a democrat, in Denver said Tuesday she was being "sarcastic" with a retweet appearing to call for "solidarity" with anyone who has the coronavirus to attend rallies for President Trump. Her office has dismissed calls from the Colorado Republican Party to resign over the "sarcastic" tweet.
Councilwoman Candi CdeBaca last week responded to a tweet that said, "For the record, if I do get the coronavirus I'm attending every MAGA rally I can." She responded: "#solidarity Yaaaas!!" with laughing emojis.
#solidarity Yaaaas!! ???✊??? https://t.co/PhgyQ0WmP0

— Candi CdeBaca (@CandiCdeBacaD9) February 28, 2020
The original tweet that CdeBaca responded to has since been deleted but was preserved by multiple screenshots, these ones are courtesy of The Hill:
If you missed it, Chairwoman Cook has responded to the heinous comment made by @CandiCdeBacaD9. @MayorHancock @GovofCO your silence to such a comment is unacceptable. This is not #TheDenverWay @KyleClark @Marshall9News @cologop pic.twitter.com/5e478udujC

— Denver Republicans (@GOPDenver) March 3, 2020
CdeBaca's office called it a "sarcastic tweet" in a statement released Tuesday. "Councilwoman CdeBaca made a sarcastic tweet on Twitter to call attention to the Trump administration's downplaying of the coronavirus as a 'hoax,' no more dangerous than the common flu," the statement said, according to ABC affiliate Denver 7.
But that's not how her tweet came across to anyone.  And her office then turned it around on republicans who apparently aren't doing enough to stop the outbreak's spread. (After she "sarcastically" joked about spreading the virus.) "Rather than conservative outlets making a four-day-old tweet their focus on Super Tuesday, they should focus their energy on demanding a competent federal response to this public health crisis instead," her office added. She also dismissed the backlash as "mostly out-of-state conservative media who have targeted her since even before her election to office," according to Denver 7.
"There can be no room in our politics for wishing harm on Americans who have different political beliefs," Colorado Republican Party Executive Director Lx Fangonil said in a statement. "Democrats in Colorado and across the country need to condemn this evil statement."
This happens as the Surgeon General demands that the public stop buying face masks so that healthcare workers can use them instead. Something is wrong with politics when it comes to the outbreak, and enough people are noticing.  It almost feels like the government wants us to get sick.
Surgeon General DEMANDS: "Stop Buying Face Masks!"
This is why we always stress the need to be prepared. Some of the statements coming out of the world's governments are alluding to not only spreading this virus but making sure you aren't in any capacity to fight it off. Don't fear the coronavirus, make plans to prevent it and overcome it if you do get sick.  Keep your immune system running well and make sure you have some hand sanitizer with you.  You should also improve handwashing techniques and get a properly fitted face mask.  A surgical mask will help keep you from spreading the virus to others, but if you don't want to get sick, choose and N95 or higher rated mask.
Will A Face Mask REALLY Protect You From The Coronavirus?
Simple Prepper Hacks To AVOID Getting The Flu