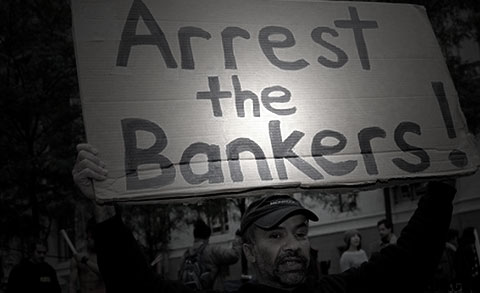 This article was written by Michael Snyder and originally published at his Economic Collapse Blog.
Editor's Comment: It is clear that things are nothing more than a house of cards. There was no financial recovery, the banks are bigger and more powerful than ever, and the stability of average people continues to slip away. The biggest problems surrounding 2008 are happening all over again… they let it happen.

Why are the banks not being prosecuted criminally and broken up? Oh yeah, Justice Dept. people like Eric Holder leave their government jobs to work for the banks… they are too big to jail because they are the true owners.
Hold on to whatever you've got.
Business Debt Delinquencies Are Now Higher Than When Lehman Brothers Collapsed In 2008
by Michael Snyder
You are about to see more very clear evidence that a new economic crisis has already begun.  During economic recoveries, business debt delinquencies generally fall, and during times of economic recession business debt delinquencies generally rise.  In fact, you will see below that business debt delinquencies shot up dramatically just prior to the last two recessions, and the exact same thing is happening again right now.  In 2008, business debt delinquencies increased at a very frightening pace just before Lehman Brothers collapsed, and this was a very clear sign that big trouble was ahead.  Unfortunately for us, in 2016 business debt delinquencies have already shot up above the level they were sitting at just before the collapse of Lehman Brothers, and every time debt delinquencies have ever gotten this high the U.S. economy has always fallen into recession.
In article after article, I have shown that key indicators for the U.S. economy started falling in either late 2014 or at some point during 2015.  Well, business debt delinquencies are another example of this phenomenon.  According to Wolf Richter, business debt delinquencies have shot up an astounding 137 percent since the fourth quarter of 2014…
Delinquencies of commercial and industrial loans at all banks, after hitting a low point in Q4 2014 of $11.7 billion, have begun to balloon (they're delinquent when they're 30 days or more past due). Initially, this was due to the oil & gas fiasco, but increasingly it's due to trouble in many other sectors, including retail.

Between Q4 2014 and Q1 2016, delinquencies spiked 137% to $27.8 billion.
And we never see this kind of rise unless the U.S. economy is heading into a recession.  Here is more from Wolf Richter…
Note how, in this chart by the Board of Governors of the Fed, delinquencies of C&I loans start rising before recessions (shaded areas). I added the red marks to point out where we stand in relationship to the Lehman moment:

Business loan delinquencies are a leading indicator of big economic trouble.
To me, this couldn't be any clearer.
Just like the U.S. government and just like U.S. consumers, U.S. businesses are absolutely drowning in debt.
In fact, a report that was just released found that debt at U.S. companies has been growing at a pace that is 50 times faster than the rate that cash has been growing.
Just imagine what it would mean for your family if your debt was growing 50 times faster than your bank account.  Needless to say, this is an extremely troubling development…
Well, American companies may just have a mountain's worth of problems, according to a new report from Andrew Chang and David Tesher of S&P Global Ratings.

"At the same time, the imbalance between cash and debt outstanding we reported on last year has gotten even worse: Debt outstanding increased 50x that of cash in 2015," wrote Chang and Tesher.

"Total debt rose by roughly $850 billion to $6.6 trillion last year, dwarfing the 1% cash growth ($17 billion)."
And the really bad news is that banks all across the country are starting to tighten credit to businesses.
In other words, they are beginning to become much more reluctant to loan money to businesses because debts are going bad at such an alarming rate.
When the flow of credit to the business community starts to slow down, it is inevitable that the overall economy slows down as well.  It is just basic economics.  So the deterioration of the U.S. economy that we have witnessed so far is just the beginning of a process that is going to take quite a while to play out.
And let us not forget that most of the rest of the world is already is much worse shape than we are.  Most global financial markets are officially in bear market territory right now, and some nations are already experiencing full-blown economic depression.
Now that the early chapters of the "next crisis" are here, most American families find themselves ill-equipped to deal with another major downturn.  In fact, USA Today is reporting that approximately two-thirds of the country is currently living paycheck to paycheck…
Two-thirds of Americans would have difficulty coming up with the money to cover a $1,000 emergency, according to an exclusive poll, a signal that despite years after the Great Recession, Americans' finances remain precarious as ever.

These difficulties span all incomes, according to the poll conducted by The Associated Press-NORC Center for Public Affairs Research. Three-quarters of people in households making less than $50,000 a year and two-thirds of those making between $50,000 and $100,000 would have difficulty coming up with $1,000 to cover an unexpected bill.
What are these people going to do when they lose their jobs or their businesses go under?
If you have any doubt that the U.S. economy is already in recession mode, just look at this chart over and over.
For months, I have been warning that the same patterns that immediately preceded previous recessions were happening once again, and this rise in debt delinquencies is another striking example of this phenomenon.
This stuff isn't complicated.  Anyone that is willing to be honest with themselves should be able to see it.  As a society, we have been making very, very bad decisions for a very, very long period of time, and what we are watching unfold right now are the inevitable consequences of those decisions.
*About the author: Michael Snyder is the founder and publisher of The Economic Collapse Blog. Michael's controversial new book about Bible prophecy entitled "The Rapture Verdict" is available in paperback and for the Kindle on Amazon.com.