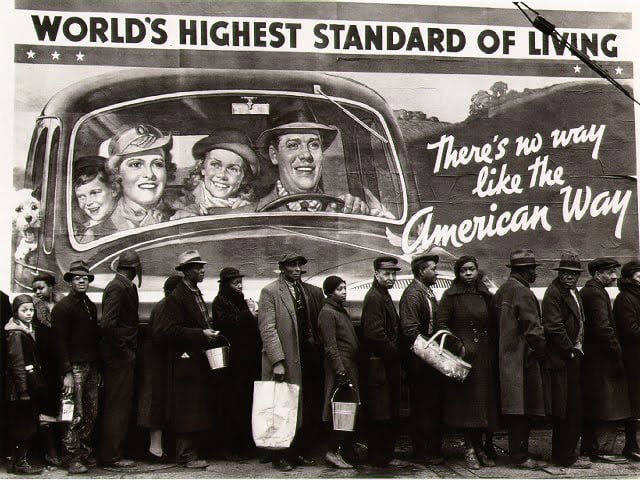 This article was written by Tom Chatham and originally published at his Project Chesapeake website.
Editor's Comment: The reality is sad, but the population is not prepared to face the great crisis at hand.Overnight and with the heavy force of a tidal wave. The greatness and the normalcy of not having to struggle to meet basic needs, the standard of living that prosperous Americans have known all their lives is on the cusp of utter destruction. The social services and pensions are being deliberately abused, pressured, traded, undermined, looted from and neglected – only to accumulate impossible shortfalls in funding.
The financial security for retirement, and for those not working or depending upon benefits, is all prone to be deleted. What would happen if the Great Depression returned? Americans were once rural, rugged and dignified. Today, they are urban, delicate and debased, not to mention ignorant and dumbed down. Who among us is prepared to survive a true, long-term collapse? Fewer than you'd think…
How Will You Cope With A Lower Standard Of Living?
by Tom Chatham
The forces are mounting that will eventually overwhelm most Americans and send their standard of living to unknown depths. Americans that have only known the post WWII prosperity are ill equipped and educated to deal with depression level living. Easy credit and instant gratification have created a nation of whining, self absorbed, entitlement minded people with no moral or mental toughness.
Doug Casey believes we are headed for what he calls a super depression created by the ending of a debt super cycle. The bigger the debt cycle the bigger the depression that follows. That's how reality works and most people are not prepared for reality.
When this depression, which has already started, gets momentum, it will overwhelm the plans of a society that is expecting to get things like social security, pensions and payouts from retirement plans they have paid into for many years. All of those things will disappear almost overnight and leave society gasping and stupefied over what to do. Their reactions will be to yell and scream and try to identify who to blame but the only person they should blame is the one in the mirror.
Many very smart people have raised the alarm and done their best to warn the sleeping public, but those slumbering masses have ignored the warnings and hit the snooze button one more time. The masses do not understand economics, do not want to understand economics and they will pay dearly for that ignorance in the coming days.
When the real unemployment rate becomes common knowledge as it increases substantially, people will be left to survive on what resources they have saved up outside the banking system that cannot be stolen by the politicians and bankers. That is a key point here. The assets you have outside the system that cannot be stolen from you with a few key strokes on some computer.
Those hoping for some miraculous event that will send the U.S. back to the days of manufacturing might and jobs for all will never see it happen. Those days are gone. The west line theory tells us our economy will slow down and become more modest as the shipping center of the world moves west to the next powerhouse region which is Asia. This is what history teaches us.
When people suddenly wake up one morning and they have no job, their retirement is gone and they need to care for their family, what will they do? When government services have collapsed and they suddenly realize they are now living in a third world country with few government services, what will they do? When the banks are closed and only a select few connected people have any type of money or access to goods, what will they do?
This is the reality that many people will face in the future and they have no idea how bad it can get. They refuse to contemplate the harsh reality they will be living in and take steps to mitigate the effects. To do so would be to acknowledge it could happen and they are taking personal responsibility. Personal responsibility is a dirty phrase in today's entitlement society. To see some of the effects one only has to look at the collapse of society in Venezuela today to see what awaits.
When the Dollar Collapses, This is What WILL Happen in the United States!

When it happens it will all fall back to you to take responsibility for your family and take care of them for the duration. To do that you need to plan now for that eventuality and build up the resources you will need to provide food, shelter, clothing and security when the system fails to do it for you. You need to be Noah on his ark not the people watching as he floated away.
Having resources stored up is a must but it may not get you all the way through if the situation lasts for many years. That is why you need some type of plan to replace those resources as time goes by and have some way to generate some type of income or at least items to trade. Usable goods are for the short term and things like gold ,silver and production equipment are for the long term to help you get through the crisis with the least amount of pain.
Even with proper planning the days ahead will not be easy as the standard of living of society will fall substantially to levels only seen in failed third world countries or old pictures. The assets actually owned by people today is very small compared to how they live. They will default on their home loan, their car loan, and their credit card debt leaving them with very few real possessions and few ways to move what they have left even if they have some place to go. Ultimately these people will become the new serfs to the wealthy class that will take possession of anything of value. Feudalism will once again rule.
The lack of planning by society will make this a reality if it is allowed. What will you do when everything you have worked a lifetime for is suddenly taken away? Do you have a plan to keep what you have? Do you have a plan to make money when you cannot find a job? Do you have a way to take care of your family until things stabilize? Do you have a home you will not lose if the whole system breaks down? What will you do if electricity or fuel is too expensive to buy or not available to the general population? These are the questions you should be asking yourself now and you better have a good answer because your family will be asking them when the greater depression sets in.
This article was written by Tom Chatham and originally published at his Project Chesapeake website.
Tom Palmer: the inevitable collapse of the welfare state