This article was contributed by Tom Beck of Portfolio Wealth Global.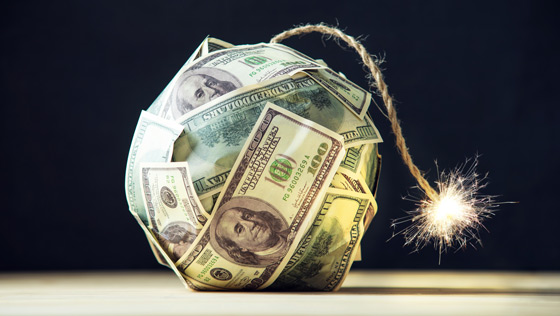 The U.S. dollar is, WITHOUT A DOUBT, a weapon at this point. The Federal Reserve uses it to PROP UP American businesses, mostly with the thought in mind that ANYTHING IS BETTER than seeing a debt deflation.
It's true; a debt-deflation would lead to riots ONE HUNDRED TIMES worse than the ones you're currently seeing. A debt deflation would lead to MARTIAL LAW, to curfews, to ROBBED ATM machines, to a WORLD OF PAIN, so you know the central bank cannot let this happen.
In the movie The Godfather, the head of the family Michael Corleone is confronted by his wife and mother of his children, Katherine "Kay" Corleone, saying she doesn't love him and that she wants to take his children from his house and raise them on her own. He tells her that "He will use all of his resources and power to stop that." It's a powerful scene.
To Jerome Powell, a debt deflation is what taking children from their father is to Al Pacino's character. He will turn heaven and earth before he lets it happen.
This is the reason the system IS BROKEN. It can't undergo recessions and slowdowns; TOO MUCH DEBT allows it to work only in boom times.
The world is too divided to DECIDE ON a new monetary structure, so when China finally HAS ENOUGH of American currency dominance, THE SEPARATION will be like an earthquake.
My analysis doesn't show the Yuan becoming the new reserve currency, but that China will be able to persuade ITS BLOCK OF COUNTRIES – which give more of their allegiance to China than they do to the U.S. – to trade in a basket of Chinese-led currencies/commodities.
The dollar will NOT CEASE being the world reserve currency, but it will have competition.
As can be seen above, the number of bankruptcies IS INCREASING; no doubt Covid-19's economic damage has been PAPERED OVER, but you can't bail out everyone – it's NOT POSSIBLE.
This will put additional pressure on government and central banks – more stimulus packages WILL FOLLOW.
This crisis has hit both the young and the elderly, FINANCIALLY SPEAKING (check it above).
It mostly hurt the ALREADY-STRUGGLING, who are laid off more quickly since they're replaceable. And if a competitor recruits them, it doesn't create long-lasting damage.
For America, Covid-19 will be remembered as the crisis in which the Federal Reserve showed what it means to be ALL-IN, and I believe this will change how investors view future crises.
The reason I say that is because from now on, the focus will no longer be on the Federal Reserve, but on the DEBT OVERHANG that its programs create. It will be considered a given that the central bank fixes market issues, but the debate will revolve around the unintended consequences of their policies.
Central banks have entered a NEW ERA. They will need to prove that their actions don't create UNSOLVABLE problems for countries.
Everyone understands now that central banks simply print currency; nothing fancy about it… they are just COUNTERFEITERS WITH A LICENSE.
EXCLUSIVE REPORTS, Featured In This Article and in Others, Which Are Considered ESSENTIAL READING: