I see this little bicycle weave through the crowd and stop in front of the troops. He stood there for a few minutes. I'm not sure why.

-Julia Ioffe, Moscow Correspondent for the New Yorker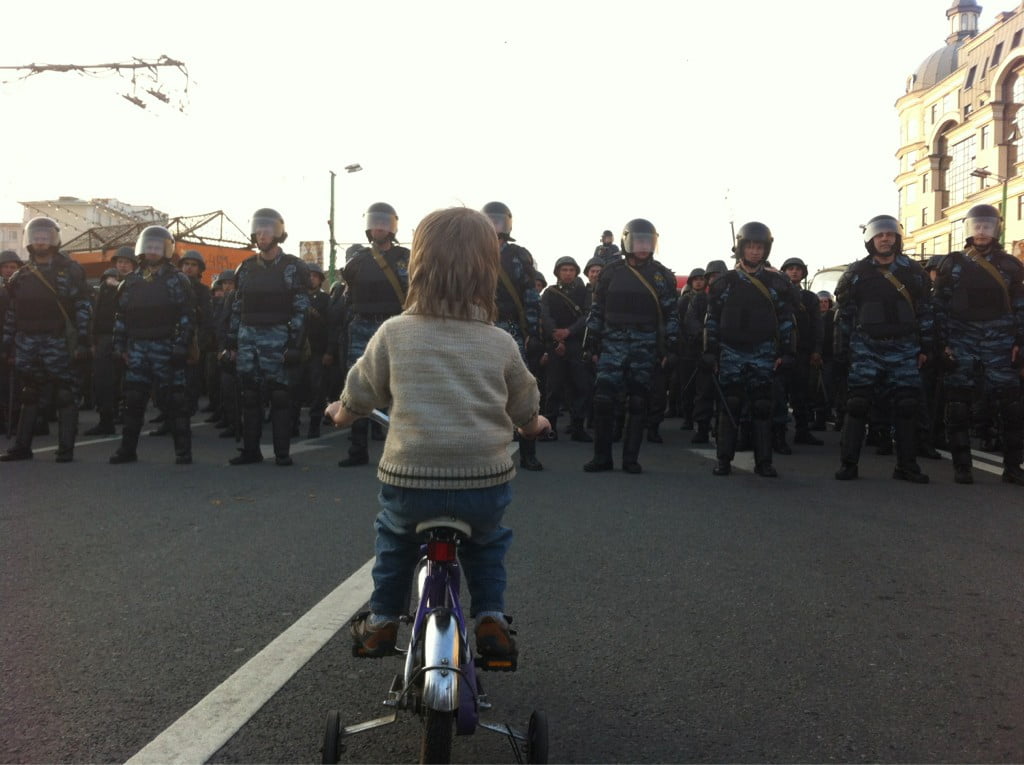 View Larger Image
The image, captured in Moscow, is a stark reminder that tyranny has spread its wings the world over.
Whether you're living in Greece, the Peoples' Republic of communist China, oligarch Russia or the democratic United States of America makes no difference. The battle between David and Goliath is being fought on many fronts and in many nations.
As a bloody skirmish between police and opposition activists in central Moscow was drawing to a close on Sunday a small boy on a tiny bicycle pedaled through the crowd and approached a line of hulking riot police.

He sat there for a moment, balancing on his training wheels, staring at the menacing troops who were decked out in blue camouflage uniforms and full riot gear, nightsticks at the ready.

A group of protesters who had been heckling the cops began jeering, "Here's the guy that will storm the Kremlin. Be ready boys! Here he comes!"

Julia Ioffe, the Moscow correspondent for The New Yorker and Foreign Policy magazine, happened to be standing right behind him. She whipped out her iPhone and snapped a picture which she tweeted out to her over 6,000 followers with the caption "Russia's Tianamen (sic) image."

The photo quickly ricocheted around the internet.

Source: ABC
What was going through the minds of these armed and ready riot police as this toddler stared them down?