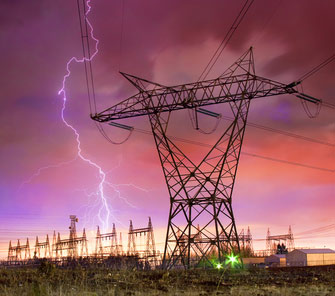 We talk a lot about Peak Cheap Oil as the Achilles' heel of the exponential monetary model, but the real threat to the quality of our daily lives would be a sustained loss of electrical power. Anything over a week without power for any modern nation would be a serious problem.
When the power goes out, everything just stops. For residential users, even a few hours begins to intrude heavily as melting freezers, dying cell phones, and the awkward realization that we don't remember how to play board games nudge us out of our comfort zone.
However, those are just small inconveniences.
For industrial and other heavy users, the impact of even a relatively short outage can be expensive or even ghastly. Hospitals and people on life-assisting machinery are especially vulnerable. Without power, aluminum smelters face the prospect of the molten ore solidifying in the channels from which it must be laboriously removed before operations can be restarted.
Many types of nuclear power plants have to switch to back-up diesel generators to keep the cooling pumps running. And if those stop for any reason (like they run out of fuel), well, Fukushima gave us a sense of how bad things can get.
And of course banking stops, ATMs are useless, and gas stations cannot pump gas. Just ask the people of New Jersey in the aftermath of Hurricane Sandy.
A blackout of a few hours results in an inconvenience for everyone and something to talk about.
But one more than a day or two long? Things begin to get a bit tense; especially in cities, and doubly so if it happens in the hot mid-summer months.
Anything over a week and we start facing real, life-threatening issues. National Geographic ran a special presentation, American Blackout, in October 2013 — it presented a very good progression covering exactly what a timeline of serious grid disruption would look and feel like. I recommend the program for those interested.
Grid Threats
We're exploring this risk because there are a number of developments that could knock out the power grid for a week or more. They include a coronal mass ejection (CME), a nuclear electromagnetic pulse (EMP) device, a cascading grid failure, and malicious hacking or electronic attacks.
It's the cyber-electronic front that's especially concerning these days, as we depend so vitally on so many systems that operate completely dependent on computer controls.
Many critical manufacturing and power generation systems are especially vulnerable to such attacks, as the Stuxnet virus showed in Iran where it is believed to have ruined thousands of delicate uranium enrichment centrifuges by overriding their commands and causing them to literally spin themselves to pieces.
As one Peak Prosperity member recently wrote:
My great fear is not supersonic missiles, it's a combined-arms cyber attack plus (as necessary) kinetic assault on the power grid, with the "calling card" being left pointing to some convenient domestic extremist group scapegoat.

The FERC (Federal Energy Regulatory Commission) released a report that suggested the US power grid could be knocked out for "weeks if not months" by taking out only 9 substations using a coordinated kinetic attack.

Given that one substation was actually assaulted by persons unknown last year:

In last April's attack at PG&E Corp.'s Metcalf substation, gunmen shot 17 large transformers over 19 minutes before fleeing in advance of police. The state grid operator was able to avoid any blackouts.

The Metcalf substation sits near a freeway outside San Jose, Calif. Some experts worry that substations farther from cities could face longer attacks because of their distance from police. Many sites aren't staffed and are protected by little more than chain-link fences and cameras.

So this power station assault actually happened. This whole thing isn't just someone's crazy dream.
You can be certain that such concerns are very high on the list of things that the NSA worries about, and which it feels justify the use of whatever electronic eavesdropping may be necessary to guard against.
A widespread loss of the electrical grid for even one week would be devastating for a number of reasons. First the fuel refining, manufacturing, distribution and delivery systems would cease to function. After emergency generators are used to move and distribute what processed fuel is in the system, are only remaining fuel will be that brought into the country from other regions of the world.
Within a very short time, perhaps just days or hours of what is perceived to be a sustained loss of electrical power, the fuel system will be placed under emergency triage rationing — with hospitals, nuclear generation plants, the military, police and other emergency services consuming 100% of what's available. Sorry, none for you.
With every additional day that the electricity is out the damage to the afflicted nation mounts.  Food, fuel, and water, become scarce and sanitation problems rapidly  accumulate.
Here's the thing: cyber penetrations and outright kinetic attacks on US power grid elements have already happened. Given the extreme disruption that would result from any successful future attacks, you should have some personal preparations in place.
Our Woeful Grid
The US power grid, as a whole, is anything but modern and robust. Huge swaths of it were built decades ago. It remains largely a centralized generation and distribution system, one in which the failure of a remarkably few 'nodes' would be catastrophic.
It's millions of miles of lines, utility poles, towers, substations and generating stations. Here's a good, short description:
Today [2003], the US electric power grid serves about 125 million residential customers, 17.6 million commercial customers, and 775,000 industrial customers. These various categories of customers account, respectively, for about 37%, 36%, and 27% of electricity consumption annually.

Electricity is produced at large power plants typically located in remote areas and delivered into high-voltage transmission lines that transport it across long distances to regional and neighborhood substations, where the voltage is stepped down to a current that can be used in homes and offices and fed into a local distribution grid.

Between 1949 and 1973, electricity use in the United States grew at an average annual rate of 8.3%, and the system was able to meet that demand with only sporadic difficulty. Even with rising prices after 1973, electricity use grew at an average annual rate of 2.5% in the years from 1973 to 2006. The growth rate projected for the next 20 years is comparatively flat.

The electric grid encompasses both transmission and distribution (T&D) power grids. The transmission system spans more than 160,000 miles (257,000) of high-voltage transmission lines and connects over 750 GW of electricity-generating capacity with local and regional demand centers across the nation. In addition, the electricity distribution system, which consists of smaller, lower-voltage distribution lines that deliver power from substations and transformers to customers, encompasses 6 million miles (9.6 million) of wire and cable spread across roughly 500,000 circuits and linked to the national transmission system by about 60,000 substations.

(Source) http://www.brooksidestrategies.com/resources/origins-and-evolution-of-th…
The substations circled in green in the image above are the most vulnerable points in the system.
The alternative to this mass of interconnected wires would be a decentralized, smart grid involving a very large number of small generating 'stations' where thousands of failures would be required to cause a sustained loss of power for millions.
But currently?
The loss of just nine critical substations could mean a catastrophic loss of power for up to 18 months. What the country would look like after that, and whether such an insult could be recovered from is an open question.
U.S. Risks National Blackout From Small-Scale Attack

The U.S. could suffer a coast-to-coast blackout if saboteurs knocked out just nine of the country's 55,000 electric-transmission substations on a scorching summer day, according to a previously unreported federal analysis.

The study by the Federal Energy Regulatory Commission concluded that coordinated attacks in each of the nation's three separate electric systems could cause the entire power network to collapse, people familiar with the research said.

A small number of the country's substations play an outsize role in keeping power flowing across large regions. The FERC analysis indicates that knocking out nine of those key substations could plunge the country into darkness for weeks, if not months.

A memo prepared at FERC in late June for Mr. Wellinghoff before he briefed senior officials made several urgent points. "Destroy nine interconnection substations and a transformer manufacturer and the entire United States grid would be down for at least 18 months, probably longer," said the memo, which was reviewed by the Journal. That lengthy outage is possible for several reasons, including that only a handful of U.S. factoriesbuild transformers.

(Source)
The Us grid consists of three big regions, and is designed in such a way that the failure of just a few critical components would drag the whole thing down.
Again, that insult could be a deliberate attack, an EMP device, a CME, or even a squirrel on the wrong transformer on a hot day that leads to a cascading series of failures.
These vulnerabilities could be addressed, but the main point of this report is to note that over the years since they've been identified they mostly have not been addressed.
Does all of this seem too unlikely to worry about? Well, you might want to consider that we only recently learned that a massive CME narrowly missed the earth in 2012, the exact sort of threat we covered in great detail in a past podcast with a NASA scientist:
Carrington-class CME Narrowly Misses Earth

May 2, 2014

The close shave happened almost two years ago. On July 23, 2012, a plasma cloud or "CME" rocketed away from the sun as fast as 3000 km/s, more than four times faster than a typical eruption. The storm tore through Earth orbit, but fortunately Earth wasn't there. Instead it hit the STEREO-A spacecraft. Researchers have been analyzing the data ever since, and they have concluded that the storm was one of the strongest in recorded history. "It might have been stronger than the Carrington Event itself," says Baker.

The Carrington Event of Sept. 1859 was a series of powerful CMEs that hit Earth head-on, sparking Northern Lights as far south as Tahiti. Intense geomagnetic storms caused global telegraph lines to spark, setting fire to some telegraph offices and disabling the 'Victorian Internet." A similar storm today could have a catastrophic effect on modern power grids and telecommunication networks.

(Source)
How much did this storm miss us by? About one week. If the earth had been just 7/365 (1.9%) further along in its path, an entire hemisphere would have gotten shellacked. And, oh by the way, do any of you recall hearing of any warnings from NASA or other government bodies in 2012 that such a blast was headed our way and how closely it missed us by?
Me neither. So perhaps we shouldn't count on getting an official warning in the future either.
Conclusion (Part 1)
The main conclusion here is that you should be at least moderately prepared for a sustained electricity outage, at least to the same degree that you carry fire insurance on your property. Both are remote — but catastrophic — events where a little advance preparation can go a long way.
In Part 2: Reducing Your Risk To A Grid-Down Event we reveal the vulnerabilities mostly likely to cause prolonged outages of the national power grid: cyber attacks. The current system in the US has a disconcerting number of failure points that can — and are, the data shows — being targeted by malicious agents.
More important, we lay out the specific steps concerned individuals should take at the home level to have backup support and protection should the grid go down. The cost of such preparation is very low compared to the huge magnitude of this low-probability, but highly disruptive, risk.
Click here to read Part 2 of this report (free executive summary, enrollment required for full access)