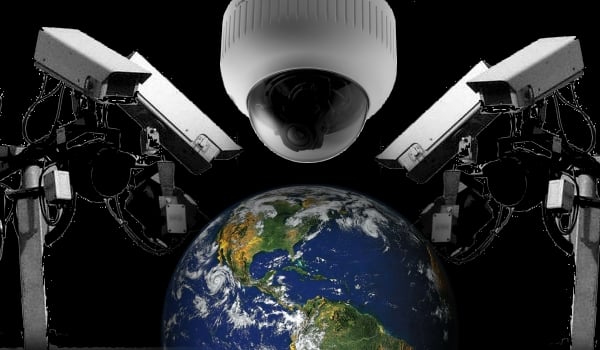 Welcome to 2015. We're certainly not in Kansas anymore.
Not only is the police state here, but it is upgrading all the time.
While people are busy fighting an uphill battle with apparently rampant cases of abuse, excessive force and a misguided and failed War on Drugs, many are too far behind the times to keep up with these technologies – now being tested or used in police departments across the country.
While the use of technology in policing is nothing new, it might surprise you have far things have gone – with much of police surveillance now fully automated and integrated into wireless networks, and monitored by Homeland Security-funded fusion centers.
Reason.tv rounded up these examples of creepy, robot, privacy destroying police tactics (and it's only just beginning):
• Smart street lights created a stir in the alternative media a few years ago, with news that Homeland Security grants were putting big brother funding on the streets quite literally. Now, they are being tested in Las Vegas. The intelligent street lights are equipped with two-way communication and monitoring devices, and may be used to record conversations on the streets, or to broadcast official messages from the authorities during an emergency, or in the midst of a crime. Apparently, they can also broadcast music. Maybe that will give them enough street cred to keep the creepy level off the radar. Paul Joseph Watson wrote:
The Intellistreets system comprises of a wireless digital infrastructure that allows street lights to be controlled remotely by means of a ubiquitous wi-fi link and a miniature computer housed inside each street light, allowing for "security, energy management, data harvesting and digital media," according to the Illuminating Concepts website.

In terms of Homeland Security applications, each of the light poles contains a speaker system that can be used to broadcast emergency alerts, as well as a display that transmits "security levels" (presumably a similar system to the DHS' much maligned color-coded terror alert designation), in addition to showing instructions by way of its LED video screen.

The lights also include proximity sensors that can record both pedestrian and road traffic. The video display and speaker system will also be used to transmit Minority Report-style advertising, as well as Amber Alerts and other "civic announcements".
• Location tracking Wi-Fi is now being tested in Seattle and other locations as part of a wireless mesh network. Of course, most already know that their cell phones and computers share data with their providers, the NSA and a host of other data hungry watchers, but now the police are using boxes set up at numerous street intersections to ping and track cell phones in the area, logging location data for thousands of drivers, passengers and pedestrians that could be used to establish the whereabouts of a suspect, pursue criminals, as evidence in traffic disputes or perhaps for crowd control.
The Wi-Fi tracking devices appear as white boxes mounted on poles or street lights. The data interconnects through a wireless mesh network with existing traffic cameras, police squad vehicles, networks of cameras and other interfaces on the emerging fiber network, and a host of authorities in the region, including police, the Sheriff's Department and the regional fusion center. Officially, the mesh network aides communication during emergency scenarios, but also functions as a roaming live-time surveillance network.
Reason.tv reports that Seattle residents been reporting wi-fi networks popping up on their cell service with the names of intersections (such as 3rd & Union) since 2013.
• Sting Ray cell phone interceptor / cell phone tower impersonator devices are now being secretly used by the FBI, local police departments and… probably other spy agencies, foreign and domestic, as well. The use of this technology remains less known than other techniques, in part because the Justice Department has pressured local law enforcement to keep hush hush about the use of this tool, even in the face of court testimony.
The best part, from a policing point of view, is the kid-in-a-candy store, fish-in-a-barrel opportunity for revealing data on everyone from suspects to innocent bystanders who may have data wanted by the authorities… now or later. No warrants need apply.
Melissa Melton writes:
According to the Associated Press, the Obama Administration has been actively advising police departments to refuse disclosure about certain cell phone surveillance technologies, including the widely used "StingRay" device, even in routine state records requests.

Evidently, the StingRay technology allows law enforcement to "trick" cell devices into sharing identifying personal and location data with them that would ordinary be sent to communications companies and require request procedures.

Instead, police are bypassing company assistance and collecting unique information on suspects, persons of interests, and – as the AP reports – they can even "sweep up basic cellphone data from entire neighborhoods," all without any court orders or oversight.
• See-through-radar, as used in such on the market technologies as the Range-R, allows police to see the location of all the people inside a building through the walls, again, without a warrant.
USA Today reports:
At least 50 U.S. law enforcement agencies have secretly equipped their officers with radar devices that allow them to effectively peer through the walls of houses to see whether anyone is inside, a practice raising new concerns about the extent of government surveillance.

Those agencies, including the FBI and the U.S. Marshals Service, began deploying the radar systems more than two years ago with little notice to the courts and no public disclosure of when or how they would be used. The technology raises legal and privacy issues because the U.S. Supreme Court has said officers generally cannot use high-tech sensors to tell them about the inside of a person's house without first obtaining a search warrant.
• PoliceBots – Right now, the Knightscope K5 looks like an inept R2D2 unit, but soon people will see it as the early deployment prototype of the dangerous Robocop type units that science fiction has long warned us about.
They are scheduled to begin actual patrols in the Silicon Valley area sometime this year, and will principally be used to detect criminal activity and alert human officers… for now, of course. Later, they are supposed to be capable of crime prediction as well as prevention, but we already know that Minority Report is no-knocking at the door.
According to the Daily Mail, these bot-officers carry a number of advanced and perhaps troubling capabilities, including rapid license plate scanning and something referred to as 'odor detection':
The five foot tall robots have a combination of laser scanning, wheel encoders, inertial measurements, and GPS that allows fully autonomous operation and charging.

It also has odour detectors, and can even monitor air pollution as it travels around.

Using cameras they can also read up to 300 car number plates a minute, allowing them to monitor traffic.
• Drones – The use of drones is, unsurprisingly, also expanding, but the devices are become so cheap at the same time that their use is becoming accepted. Hence, police departments and law enforcement are snatching them up and making purchases that often fly under the radar of public controversy. Infinitely cheaper than helicopters and other aerial devices, drones are poised to be anywhere and everywhere that law enforcement wants eyes.
• "Eye in the Sky" – Reason.tv also included an "Eye in the Sky" HD camera mounted inside a Cessna-style aircraft that flies over a city locale for up to six hours, recording everything that takes place in the community – with options to zoom in on areas of interest in live-time and play back to review what officers weren't focusing on.
The Atlantic reported on how the device was used secretly in Compton, California, and only revealed to the public years afterwards – kept hush hush by law enforcement to quell privacy concerns:
In a secret test of mass surveillance technology, the Los Angeles County Sheriff's Department sent a civilian aircraft* over Compton, California, capturing high-resolution video of everything that happened inside that 10-square-mile municipality.

Compton residents weren't told about the spying, which happened in 2012. "We literally watched all of Compton during the times that we were flying, so we could zoom in anywhere within the city of Compton and follow cars and see people," Ross McNutt of Persistence Surveillance Systems told the Center for Investigative Reporting, which unearthed and did the first reporting on this important story. The technology he's trying to sell to police departments all over America can stay aloft for up to six hours. Like Google Earth, it enables police to zoom in on certain areas. And like TiVo, it permits them to rewind, so that they can look back and see what happened anywhere they weren't watching in real time.
The question is, where does it all end?
Are there any limits to how far police or government authorities will go or can go?
The Fourth Amendment seems clear enough in its intent to protect people from unwarranted searches and seizure, but it has been all but trashed and scrapped in the wake of the paranoid War on Terrorism and unparalleled mass surveillance technologies.
The problem is that there may simply be no turning back. Expectation of privacy are now as low as a fat, bald, unemployed dude hoping for a date with a supermodel. Basically, freedom is dormant and privacy is, for the time being, now all but nonexistent.
Further Reading: 2014 Year in Review: 7 Examples of Police State Technology Making Our Rights Obsolete